JoJo Siwa Opens Up About Stress-Induced Hair Loss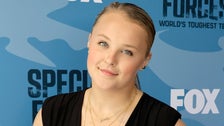 JoJo Siwa recently got emotional as she reflected on experiencing hair loss as a child star due to stress.
On Monday's episode of the Fox show "Special Forces: World's Toughest Test," the singer and dancer fought back tears as she discussed the difficulties of growing up in the spotlight.
"It's the hardest thing. Everything gets judged," she said. "People told me I have a receding hairline — they don't know that I have a stress rash and that's why I'm balding right here."
She continued, "A 12-year-old shouldn't have a stress rash on their head that makes them bald, but I did."
Siwa, whose full name is Joelle Joanie Siwa, made her reality TV debut on Lifetime's "Abby's Ultimate Dance Competition" at 9 years old, before notably joining the network's show "Dance Moms." She later became a YouTube sensation after launching a channel on the platform in 2015.
Since then, Siwa has continued to make waves as a performer, releasing her first single, "Boomerang," in 2016.
Siwa, now 20, has opened up about experiencing hair loss before.
"I would pick at it all day long, and I damaged every single hair follicle that has ever been right there," she said.
In January, Siwa posted a TikTok showing a split screen of her reacting to a compilation of her past experiences on "Dance Moms." The footage included various instances of her getting yelled at by Abby Lee Miller, a former coach on the show.
"When people hate to try and hurt me but this was my childhood…" she wrote in a text overlay on the video.