John Harbaugh speaks on Michigan scandal, brother Jim's ban: 'They don't have anything of substance'
Michigan's Jim Harbaugh has served one-third of his ban from the sidelines in the wake of an investigation into sign-stealing by the school.
The Big Ten ruled that Harbaugh would not coach the Wolverines' final three games of the regular season as the school has been found "conducting an impermissible, in-person scouting operation over multiple years, resulting in an unfair competitive advantage that compromised the integrity of competition."
Since the ruling, Harbaugh has received tons of defense. Some stars on the team, as well as alum Tom Brady, posted a one-word message in response on social media in which they accepted the challenge: "Bet."
CLICK HERE FOR MORE SPORTS COVERAGE ON FOXNEWS.COM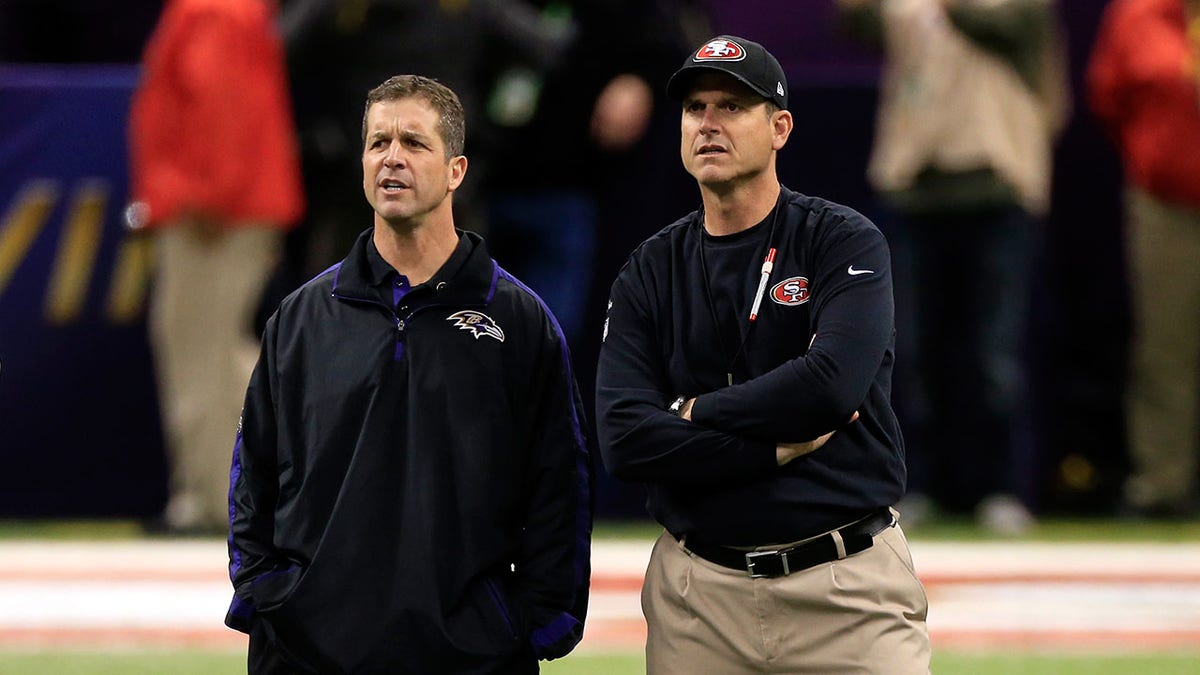 After Michigan took down Penn State on the road, acting head coach Sherrone Moore showed his support to Harbaugh in an emotional, explicit plea. Now, the Michigan head coach has garnered support from another notable figure: none other than his own brother.
John Harbaugh is the head coach of the NFL's Baltimore Ravens — the brothers even faced off in Super Bowl XLVII when Jim coached the San Francisco 49ers.
Of course, John will defend his younger brother, but he, too, made a serious plea about how proud he is of Jim for how he has handled himself throughout the scandal.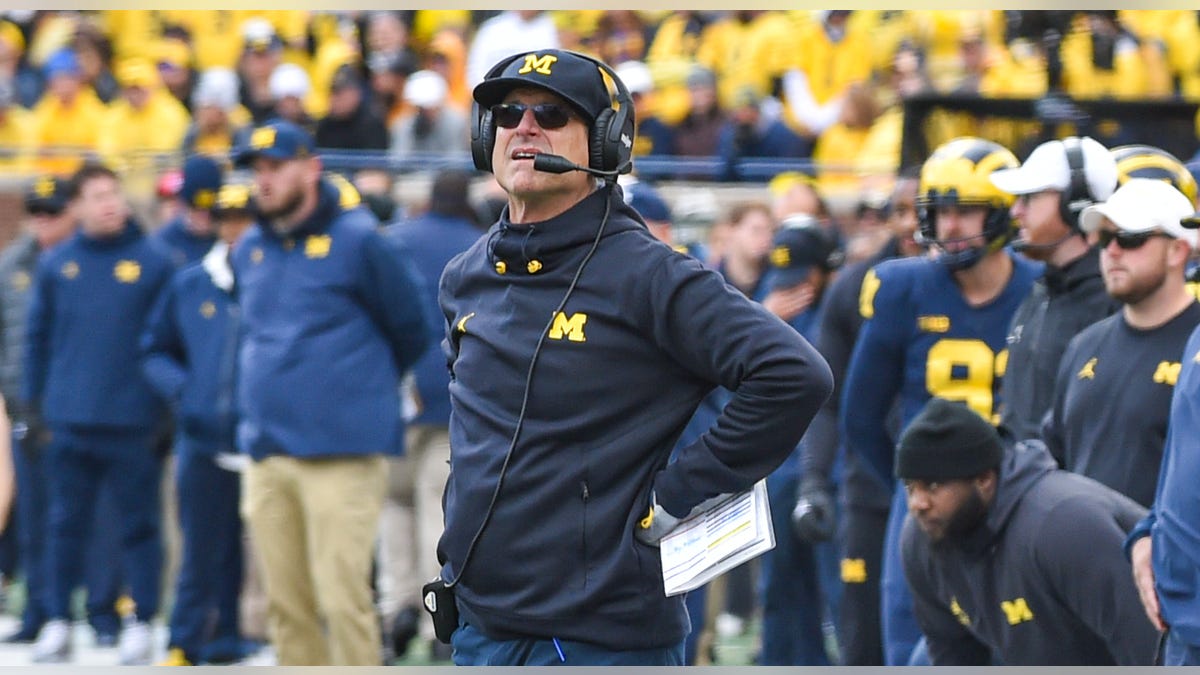 AARON RODGERS TAKES JAB AT ESPN OVER COVID TALK, RIPS CONSPIRACIES ABOUT INJURY
"I've talked to him quite a bit. I have a lot of opinions on it, obviously. I'm his brother," John told reporters on Tuesday. "I'm proud as heck of him. I'm really impressed with the way he's handled himself. It's been a long run. About everything that could be done to — his phones, his computers, all that stuff has been looked at, and he's come through this thing with flying colors. 
"I don't know what they tried to get, but they don't have anything of substance. I just think I'm proud of him. I think it's a real compliment to our family and to him, something for us to be proud of, because his kids can see this. You get in this kind of situation where you come under fire for whatever reasons, and you come out in a really good place doing the right thing all the time. And I'm really proud of that, I think it's great for our family, his kids, it's just a great blessing in that sense.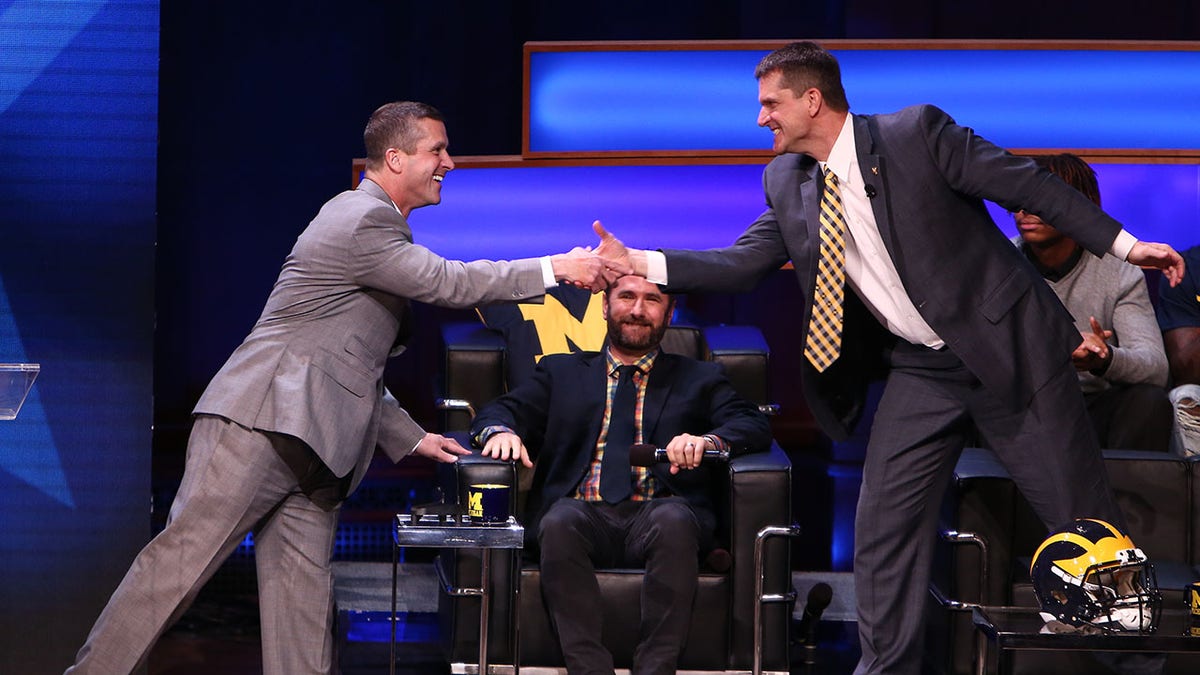 CLICK HERE TO GET THE FOX NEWS APP
"He's a great man, he's a great coach. His players love him. His coaches love him, and he stands tall through all this."
Jim will miss Michigan's game at Maryland this week and next weekend's game against No. 1 Ohio State in Ann Arbor.