Jimmy Kimmel Has Theory About Melania Trump's White House Demand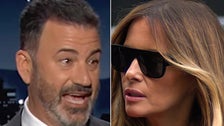 The then-first lady didn't move into the White House until nearly five months after her husband took office, and former friend and advisor Stephanie Winston Wolkoff recently told the Washington Post why it took so long.
"She refused to move in until they installed a new toilet," Kimmel explained. "Apparently, she wanted to make sure the toilet was large enough to flush herself down."
Kimmel also spotted something even stranger: Melania Trump had a list of approved words that could be used to describe her.
The late-night host's team turned those words into an advertisement with a not-so-hidden message.
Check it out in his Tuesday night monologue: