Japan, China agree on a constructive relationship, but reach only vague promises in seafood dispute
TOKYO (AP) — Japanese Prime Minister Fumio Kishida and Chinese President Xi Jinping agreed Friday to build a stable and constructive relationship but achieved only a vague agreement on easing a dispute over a Chinese ban on Japanese seafood, officials said.
Kishida told reporters after a 65-minute meeting with Xi on the sidelines of the Asia Pacific Economic Cooperation summit in San Francisco that they agreed to "find ways to resolve the dispute through meetings and dialogue in a constructive manner" and would convene a meeting of scientific experts. He gave no details.
KOI EMERGES AS NEW SOURCE OF SOURING RELATIONS BETWEEN JAPAN AND CHINA
Kishida had demanded that China immediately lift its ban on Japanese seafood, in place since the crippled Fukushima nuclear power plant began discharging treated radioactive wastewater into the sea on Aug. 24. The ban has badly hurt Japanese exporters of scallops and other seafood.
Japan says the wastewater is much safer than international standards and that the International Atomic Energy Agency has concluded the environmental and health impact of its release is negligible. China calls the discharge "nuclear-contaminated water."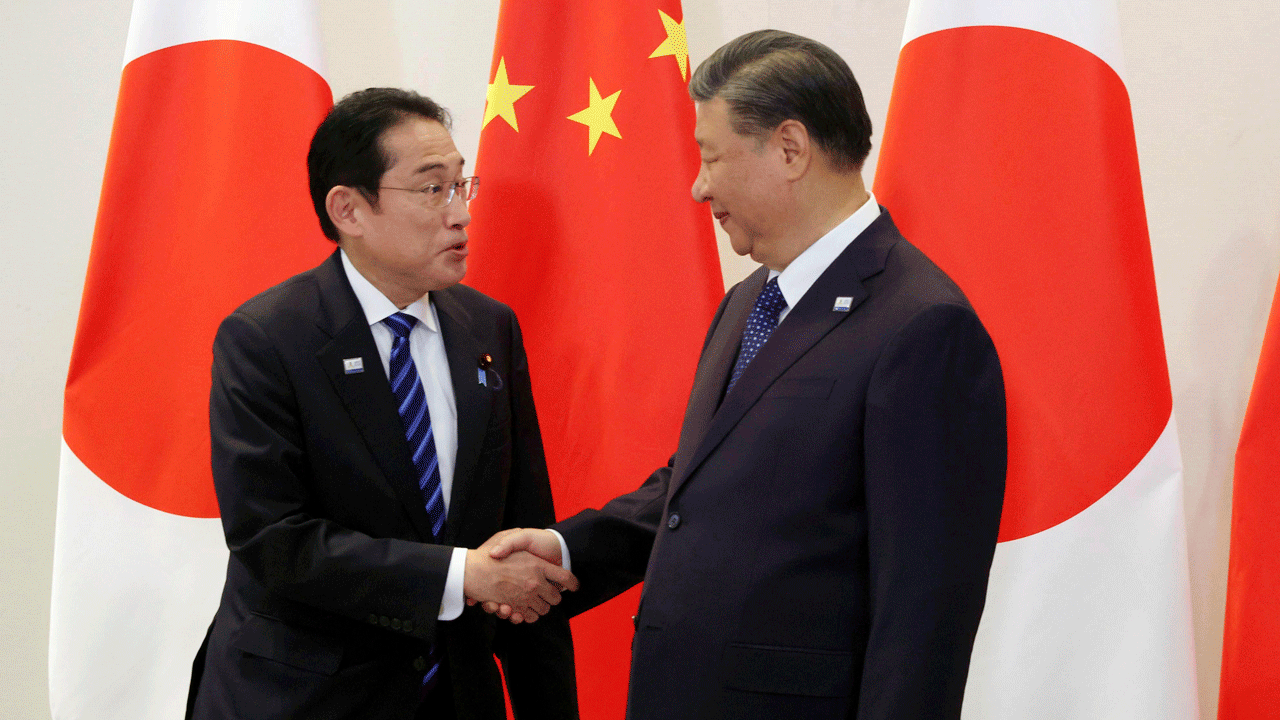 Chinese state broadcaster CCTV said China and Japan agreed to find a way to resolve the Fukushima water issue through consultations and negotiations in a constructive manner. Xi, calling the discharge a global health and marine environment issue, told Kishida that Japan should take domestic and international concerns seriously and handle them in a responsible and constructive manner, CCTV said in an online report.
Chinese Foreign Ministry spokesperson Mao Ning, speaking Friday in Beijing, said all countries have the right to ensure food safety and protect public health.
Chief Cabinet Secretary Hirokazu Matsuno praised the talks as "extremely meaningful" because Kishida and Xi "confirmed their mutual goal of building constructive and stable Japan-China relations from a wide perspective."
But a series of disputes dominated the talks. Kishida asked Xi to remove all marking buoys that Beijing has placed inside Japan's Exclusive Economic Zone in the East China Sea, and to quickly release a Japanese businessman who was formally arrested in October on spying allegations.
Kishida said he raised "grave concern" about China's increased military activity around Japan, including joint exercises with Russia. He stressed the importance of peace and stability in the Taiwan Strait, where China regularly dispatches military ships and planes to threaten Taiwan, which Beijing claims as its own territory.
Kishida also held talks on the sidelines of APEC with South Korean President Yoon Suk Yeol, and briefly met with Biden and discussed the Middle East, Ukraine, the Indo-Pacific, China and North Korea, the Japanese Foreign Ministry said. The three leaders also held a separate meeting together.
Yoon's office said the three leaders talked for about 10 minutes about security and economic cooperation. Biden expressed gratitude to Yoon and Kishida for "easing his burden as he performs his duties as the president of the United States," Yoon's deputy national security director, Kim Tae-hyo, told South Korean reporters.
CLICK HERE TO GET THE FOX NEWS APP
Japan and South Korea, which share security concerns in the Indo-Pacific, have rapidly repaired and strengthened their ties that had long been strained over historical issues involving Japan's colonial rule of the Korean Peninsula, thereby bolstering three-way security ties with the United States.
In their meeting, Kishida and Yoon expressed satisfaction over the "positive trends in bilateral relations" and the expansion of government consultations on diplomacy, security and economy, Yoon's office said.