Janelle Monáe vows to fight anti-LGBTQ laws: I will never 'be silent'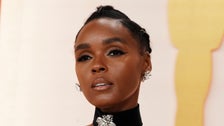 Janelle Monae said they did not want to "sit and be silent" while legislators introduce an anti-LGBTQ law. in record numbers across the country this year.
Monae, which is non-binary and uses pronouns like she/she and they/them, told the Washington affiliate of NBC that the answer to efforts to pass anti-LGBTQ bills is to "oppose" them.
"As a non-binary, queer, pansexual person, I am proud to be in this community," Monáe said.
"I will never sit back and remain silent about the injustices that are happening to our trans community… They are trying to erase our history, which is American history. If we are erasing history, how are we supposed to right the wrongs of the past and create a better future?"
Previously, Monáe opposed the "erasure program". during a CNN interviewChristian Amanpour last year when they approached the Governor of Florida. Ron DeSantis' "Don't Say Gay" Bill Made into Law and the Efforts of Texas Gov. Greg Abbott limit lessons about race in their state schools.
"This is a real experience for our ancestors, a real experience for us," they said.
"And the erasure is happening right under our noses. And this is done through legislation.
Monáe, who are set to release their album "The Age of Pleasure" on Friday, This was reported by The Sydney Morning Herald. that it is important to create "a safe space for brown and black people to experience joy, be and exist, free from oppression and fear."
"In school, you can't even talk about some things. Those who are transgender are literally trying to erase their existence and do not treat them with human decency," Monae said.
"So of course we fight, but even in the middle of a fight, we need time to find joy."