J.D. Martinez hits two home runs in Dodgers' win over Tigers
Eduardo Rodriguez could have taken the mound in Chavez Ravine for the National League West-champion Dodgers on Monday night in what would have been a tuneup for a probable Game 1 start in the NL Division Series in early October.
Instead, because he nixed a trade to the Dodgers in early August, Rodriguez started for the Detroit Tigers, who are eight games behind Minnesota in the American League Central and 11½ games back in the wild-card race.
The Dodgers gave Rodriguez a taste of what he's missing out on, as his former Boston Red Sox teammate and almost Dodgers teammate J.D. Martinez crushed a solo homer in the second inning and hit a three-run homer in the third off the 30-year-old left-hander to push the Dodgers toward an 8-3 victory before a crowd of 37,239.
Miguel Rojas added a solo homer in the seventh, and Martinez capped a five-RBI game with a two-out RBI single in the seventh, as the Dodgers (92-57) moved 3½ games behind the Atlanta Braves for the best record in the NL.
"No comment," Martinez said with a grin, when asked about homering twice against a player who did not return his text messages when the Dodgers were trying to woo Rodriguez at the trade deadline.
Did Rodriguez's snub provide any extra motivation for the Dodgers? Was it in the back of their minds?
"Nah," Martinez said. "You know, everyone makes their decisions, everyone's got their choices, why they did it. He texted me [afterward] and apologized. It was a family decision. I get it, man, he's got to do what he has to do. We wanted him here, but it is what it is. … He's a good guy, no hard feelings toward him."
Dodgers right-hander Lance Lynn gave up three runs and six hits in five innings, striking out six and walking two, to improve to 12-11 with a 5.92 ERA, leaning heavily on a lively 93-mph fastball to induce 14 swinging strikes among his 93 pitches.
Lynn was working on a three-hit shutout when he allowed two-out singles to Miguel Cabrera and Kerry Carpenter and a three-run homer to left field by Jake Rogers in the fifth, cutting Detroit's deficit to 5-3. It was the major league-leading 42nd homer allowed by Lynn, tying him for ninth for the most homers allowed in a season.
"I thought it was a good outing," manager Dave Roberts said of Lynn. "It could've been really good, given some of the command issues with the hit batsman, the two walks. But if you think about the things we really value, there were a lot of empty swings tonight. A lot more strikeouts."
The Dodgers rallied for a run in the sixth when Max Muncy walked with two out, Chris Taylor reached on an infield single and Kiké Hernández lined an RBI single to right for a 6-3 lead. Rojas lined his fifth homer to left to lead off the seventh, making it 7-3.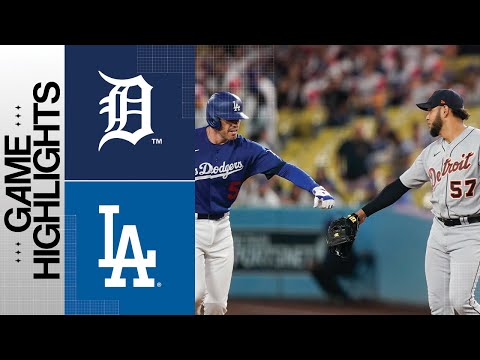 Freddie Freeman walked with one out, stole second — his career-high 20th of the season — and Martinez, who has 28 homers on the season, grounded an RBI single to center for an 8-3 lead.
"This is one thing I never thought I'd do in my career," Freeman said. "First basemen usually aren't speed demons, and the Freemans aren't known to be very fast — like, my dad just texted me, 'Fast enough.' But I try to pick the right situations and stuff like that. I value 90 feet a lot in this game. As it worked out, J.D. got a two-out hit again for another insurance run."
With four more hits, Freeman will become the only first baseman in baseball history to accumulate at least 200 hits, 20 homers and 20 stolen bases in one season. He is the fourth player with at least 25 homers, 50 doubles and 20 stolen bases in a season, joining Grady Sizemore (2006), Alfonso Soriano (2002) and Chuck Klein (1932). He also leads the team with 124 runs.
"Man, it's an exclamation point to a tremendous season," Roberts said of Freeman joining the 20-20 club. "And for a first baseman to then be able to get to 200 hits? It's never been done. For him to reach that milestone is going to be pretty special."
Dodgers relievers Alex Vesia, Caleb Ferguson, Shelby Miller and Joe Kelly combined to strike out seven over four hitless innings.
Rodriguez gave up five runs and five hits in three innings, striking out one and walking one, before leaving the game in the fourth because of an apparent back injury.
The Dodgers agreed to a deal to acquire Rodriguez on July 31, the night before the Aug. 1 trade deadline, thinking they had bolstered their injury-plagued rotation with a frontline starter who had a 2.95 ERA at the time and won a World Series with the Red Sox in 2018.
But Rodriguez vetoed the deal by invoking his no-trade clause that listed the Dodgers as one of 10 teams he couldn't be dealt to without his approval.
Rodriguez said his decision was based on a desire to be closer to his family in Miami and had "nothing to do with the Dodgers or the West Coast," but the deal also fell apart because the Dodgers and Rodriguez's agent, Gene Mato, could not agree on the financial incentives for the pitcher to waive his no-trade clause.
Rodriguez has three years and $49 million left on a five-year, $77-million deal that he can also opt out of after this season. He wanted the Dodgers to add one more year and $20 million to the contract, according to a person familiar with negotiations but not authorized to speak publicly about them.
The Dodgers balked and the deal fell apart on Aug. 1, leaving the Dodgers to scramble for a buzzer-beating trade for Kansas City Royals left-hander Ryan Yarbrough, who is 4-1 with a 2.90 ERA and two saves in 31 innings over nine games with the Dodgers.
Rodriguez received a smattering of boos from Dodger Stadium fans when lineups were introduced about 25 minutes before the game, but there were no awkward feelings, at least on the part of Roberts.
"I was certainly, like everybody, surprised that he didn't waive his no-trade to come here, to play for a team that's contending," Roberts said before the game. "But that's something that was personal to him. I'm sure there was a good reason behind it. I just don't know that answer."
Is it tough to not play the "what if" game with Rodriguez?
"No, not for me," Roberts said. "I think if a guy doesn't want to be here for whatever reason, then c'est la vie, it's all good."
Short hops
Rojas, Martinez, David Peralta and Brusdar Graterol presented retiring Tigers star and fellow Venezuelan Miguel Cabrera with a framed Hollywood Walk-of-Fame star before the game.
Staff writer Jack Harris contributed to this report.