In Pictures: A Look at 12 Years of Devastating Syrian Civil War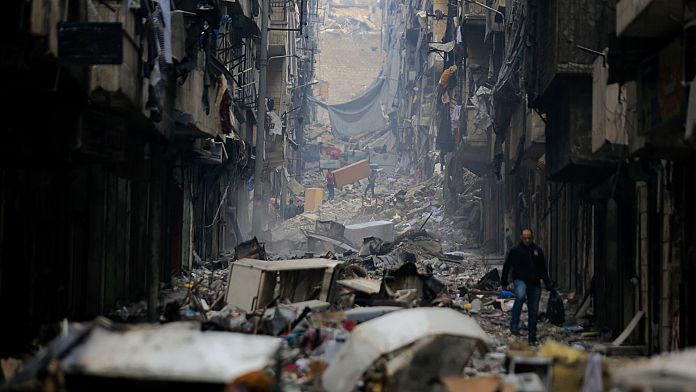 Twelve years ago, protesters gathered across Syria after a group of teenagers were arrested and tortured in the southern city of Deraa just a couple of days before.
Brutal repression by the government in Damascus followed, which quickly escalated into a civil war in Syria. Its consequences continue to be catastrophic. According to the UN, about 1.5% of the country's pre-war population was killed.
Here are just a few of the people and places affected by the devastating conflict.
Man resting on the street of Aleppo
Aleppo was one of the most affected places: a four-year battle for the city led to the fact that most of it was completely destroyed. The city also experienced the highest death rate of the entire war, with more than 51,000 civilian deaths between 2011 and 2021, according to the UN.
Boy in the back of an ambulance
In 2016, five-year-old Omran Daknish was filmed in the back seat of an ambulance after his brother was killed in an airstrike. The image of a stunned little boy covered in blood quickly became a symbol of the millions of civilians affected by the Syrian civil war.
To date, more than 27,000 children have been killed in the conflict.
Medieval bazaar abandoned
Aleppo is one of the oldest continuously inhabited cities in the world and much of its architecture dates back centuries.
According to UNESCO, at least 60% of its Old City was badly damaged during the battle for the city.
This includes its historic market, which has since been partly restored.
Ancient minaret in ruins
The Umayyad Mosque, built in the 11th century, was also partially destroyed during the fighting.
In 2013, its minaret turned into a pile of rubble.
The child was pulled from the rubble
The Syrian Civil Defense, known as the White Helmets, became one of the main symbols of resistance during the civil war. A group of volunteers has saved countless people in dire situations.
He works in opposition-controlled areas of the country and has since been nominated for the Nobel Peace Prize for his work on the ground.
Opposition fighter in Idlib
Russia is one of the main supporters of the Bashar al-Assad government. And it helped to attack opposition groups and rebel-held areas.
In this 2018 photo, a fighter participates in training at an undisclosed location in Idlib province in preparation for an offensive by Russian and Syrian government forces.
sister mourns
The so-called "Islamic State" arose at the beginning of hostilities in Syria. He committed countless acts of violence and atrocities in the regions he controlled until his self-proclaimed caliphate was destroyed in 2019.
Mohammed Ismael's brother was one of the victims of the group. In 2015, he was killed in a series of suicide car bombings in Tal Tamra, a Kurdish-majority city in the northeastern Syrian province of Hasakah.