Iga Sviatek: World number one calls for more support for Ukrainian tennis players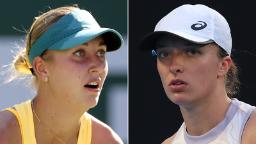 CNN
—

World #1 Iga Sviontek called on the Women's Tennis Association (WTA) to be more supportive of Ukrainian players, adding that "everything we discuss in tennis concerns Belarusian and Russian players."
Swiatek's comments on Tuesday follow incidents at the Indian Wells tournament in which Russia's Anastasia Potapova wore a Spartak Moscow jersey and Ukraine's Lesya Tsurenko withdrew from the tournament this week.
Tsurenko was supposed to play against Belarusian Arina Sobolenko, but did not enter the court on Monday, Reuters reports. making report that the organizers said that the Ukrainian withdrew for personal reasons.
Asked about Tsurenko at her post-match press conference, the 21-year-old Polish star Swiatek said: "I completely understand why she refused, because, frankly, I have a lot of respect for Ukrainian girls, because if my country fell a bomb or if my house was destroyed, I don't know if I could handle it."
As of March 12, the Russian invasion of Ukraine, which began on February 24 last year, has killed at least 8,231 civilians and injured 13,734. in accordance with Office of the United Nations High Commissioner for Human Rights.
OHCHR believes that the actual numbers are "significantly higher as information is delayed from some locations where heavy fighting has taken place and many reports are still awaiting confirmation".
"I feel like more needs to be done to help Ukrainian players because everything we discuss in tennis is about Belarusian and Russian players," Swiatek said on Tuesday.
Sviontek also criticized the WTA leadership after Russian Potapova entered the court on Sunday in a Spartak Moscow T-shirt before the match against American Jessica Pegula. Potopova has been pictured wearing the shirt several times, including in Dubai, in a photo she posted to her Instagram account.
"It's a difficult situation," Swiatek said. "There's a lot of tension in the dressing room, which obviously will be there because there's a war going on."
"But maybe there should be a little less of them if the WTA takes some action from the very beginning to kind of explain to everyone what is right and what is not," Sviontek added.
CNN has reached out to the WTA for comment following Swiatek's criticism.
Asked about Tsurenko's departure earlier Tuesday, the WTA told CNN: "First of all, we acknowledge the emotions that Lesya and all of our Ukrainian athletes are experiencing and continuing to cope with during this very difficult period of time.
"We are witnessing an ongoing terrible war that continues to bring unforeseen circumstances with far-reaching consequences affecting the world as well as the WTA Global Tour and its participants.
"The WTA has consistently reflected our full support for Ukraine and strongly condemned the actions taken by the Russian government.
"That said, the fundamental principle of the WTA remains, which ensures that individual athletes can compete in professional tennis competition on merit and without any form of discrimination, and not be penalized because of decisions made by their country's leadership." added WTA statement.
Three-time Grand Slam winner Sviontek continued her impressive run on Wednesday by reaching the quarter-finals at Indian Wells after beating Emma Radukanu 6-3 6-1.
Sviontek defeated 2019 US Open champion Bianca Andreescu in straight sets on Tuesday.