IDF operation: at least 4 Palestinians killed in Jenin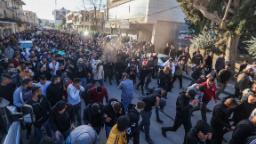 CNN
—

At least four Palestinians were killed on Thursday and another 23 were injured in an Israeli Defense Forces (IDF) operation in Jenin in occupied territory. West BankThis is reported by the Ministry of Health of the Palestinian Authority. At least five of the injured are in critical condition, the Ministry of Health added.
The Israeli security forces said in a statement that they "neutralized two members of the Palestinian terrorist organization Islamic Jihad who are suspected of serious terrorist activities."
The third person "was neutralized after he tried to attack the militants with a crowbar," the statement said.
"During the operation, the security forces fired on armed men who opened fire on them, but no injuries were found. In addition, there were violent riots, during which suspects threw stones at the security forces."
Hamas announced in a statement that the two Palestinians killed in Jenin were members.
"The cowardly murder of two resistance leaders will not go unpunished. The occupation has already tested us before, it knows for sure that our answer will come, and that the resistance march continues until liberation," Hamas said in a statement.
Nabil Abu Rudeine, spokesman for Palestinian Authority President Mahmoud Abbas, said in a statement after the raid: "These continuous Israeli aggressive actions confirm that Israel is not at all interested in resolving the situation and preventing it from escalating, despite all international efforts to prevent an escalation in time of the (coming) holy month of Ramadan. He also called for "practical action on the ground by the US administration to stop Israel's unilateral actions and ensure international protection for our people."
The violence marks the latest in a vicious cycle of violence between Israelis and Palestinians. According to the Palestinian Health Ministry, a total of 88 Palestinians have been killed since the beginning of this year, including militants and civilians. Since the beginning of the year, 13 Israeli civilians and one security official have been killed in what Israeli officials say are Palestinian attacks.