Guatemalan Supreme Court blocks presidential candidate
Guatemala's supreme court on Friday blocked yet another presidential candidate, this time ending poll leader Carlos Pineda's campaign for alleged election law violations.
constitutional Court rejected Pineda's appeal after being declared ineligible by the electoral authorities just a month before the first round of voting on 25 June.
"The Constitutional Court has put an end to democracy in this country," Pineda said. access point in a telephone interview.
PROSECUTOR WITH EYES DEprives Presidential Candidate of Immunity in Guatemala
"The co-optation of the state, the dominance of corruption and dictatorship prevailed," Pineda said. "It's incredible. I feel dead."
Pineda said his last hope was with the people of Guatemala that the majority would not vote and that new elections would be held.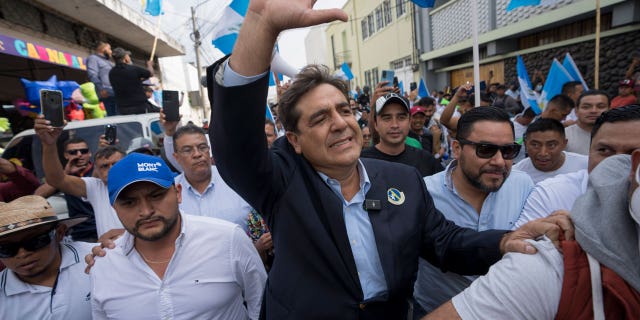 Pineda is the third presidential candidate who is not eligible to run. The court rejected final appeals by candidate Roberto Arcu on Thursday and had previously ruled against Thelma Cabrera due to paperwork issues with her running mate.
A fourth candidate, Edmond Mulet, also faces expulsion as he awaits a court decision on his candidacy. The Prosecutor General's Office demanded that an investigation be carried out in connection with the fact that he allegedly started his campaign too early, commenting on the persecution of journalists.
TEXAS REPRESENTATIVE SAYS GUATEMALAN PRESIDENT TOLD HIM 80,000 MIGRANTS GO TO BORDER USING TITLE 42 EXCLUDING TERM
Some observers accused the Guatemalan electoral authorities of using the judiciary to reduce the number of candidates acceptable to the establishment.
European UnionThe United States and the Inter-American Commission on Human Rights expressed concern about the exclusion of candidates.
Pineda, a conservative populist who ran a campaign that caused a social media storm, unexpectedly topped the polls earlier this month.
CLICK HERE TO GET THE FOX NEWS APP
The authorities said there were problems with the way his Prosperidad Ciudadana party selected its candidate, which voided his candidacy.