Granada Hills win ninth consecutive win over Birmingham
"Scrap" is the word Granada Hills baseball coach Matt Matuszak describes his team as having won nine games in a row and has already taken control of the West Valley League race with a 6-0 record.
The Highlanders (12-3) don't rely on one hitter or one pitcher. It is a group of players united and working when needed. The last victory was won on Tuesday over an opponent Birminghaman 11–5 win that gave the Highlanders a 2–0 lead against a team that was considered City's preseason title favorite.
In the first inning with four runs, the RBI doubled Easton Hawke and Juan Tirado. Birmingham equalized at 4–4 in the second courtesy of a two-run single from Carlos Macías and a two-run home run from Gavin Taylor. Andrew Cuevo had three hits for the Highlanders, including an RBI single in the third. The Hawk finished with three hits and three RBIs. Granada Hills opened the game with the fifth run. Jack Nelson threw five innings with one-time relief.
The good news for the Granada Hills is that UCLA's top pitcher Hawke still hasn't pitched this season. He is expected to make his season debut next week. Granada Hills are also the only team to have beaten the Palisades this season, making the Highlanders likely to lead the City Section playoffs if they eventually win the West Valley title.
El Camino Real 5, Chatsworth 5: The game was stopped due to darkness after 11 innings.
Carson 3, Narbonne 1: The Colts won the Marine League.
Palisades 11, Venice 1: The Dolphins improved to 10-1. Zach Gresham had two doubles and six RBIs.
El Dorado 6, El Modena 1: Jack Fishel played the full game, scoring four goals for El Dorado. Freshman Brady Abner and sophomore Diego Gonzalez each had two hits and two RBIs.
La Serna 1, Simi Valley 0: Eddie Garcia struck out 10 with no walks to help La Serna win by missing the eighth round.
Moorpark 5, Camarillo 1: Rylan Stillwater threw the entire game, conceding one hit to Moorpark.
St. John Bosco 1, Mira Costa 0: Colin Caicedo threw a four-punch shutout and Hunter Friedberg had three for the Braves.
Sherman Oaks Notre Dame 8, Crespi 2: No. The Knights, who finished in 1st place (15-1), received two hits each from Dean West, Adam Schlesinger, Madden Oko, Colin Brown and Kai Gonzaga in the Mission League victory.
St. Francis 3, Chaminade 0: Lucas Dixon hit three, Holden Deutsch hit a home run, and sophomore Caleb Thatcher hit nine in St. Louis. Francis.
Loyola 5, Bishop Germany 3: The Cubs were victorious in the Mission League.
Eastvale Roosevelt 6, King 2: Christopher Romo hit six balls in 3 2/3 innings for Roosevelt. Brayden Annette did two takes.
Crown 6, Norco 5: The Panthers won in the 10th inning thanks to a Billy Carlson home run.
Corona Santiago 7, Crown Centenary 0: Michael Padilla struck out six, walked one and threw a four-punch shutout for the rising Santiago.
Etiwanda 2, Chino Hills 1: Nicholas Neri allowed three hits in the full game.
Tesoro 3, Trabuco Hills 1: Jake Lambdin had two hits for Tesoro.
Servite 4, Oregon Lakeridge 2: Roman Martin went two for two to lead Servite.
Arcadia 6, Glendale 5: Jan Hoffstetter improved the score to 6-0 and Gabe Lopez saved Arcadia. Devon Eskridge had three hits and three RBIs.
Gar 5, West Ranch 0: Noah Andrunas, Jason Thomas and Victor Morales teamed up in a four-punch shutout.
Quartz Hill 15, Knight 0: Logan Reddemann had three hits and three RBIs for Quartz Hill.
Villa Park 5, Foothills 1: Brandon Luu scored 10 points in six innings. Gavin Grahovac and AJ Cordel each had three hits for Villa Park.
Softball
San Pedro 13, Rancho Dominguez 0: Bella Miller hit a five-inning no-hitter in the Marine League opener.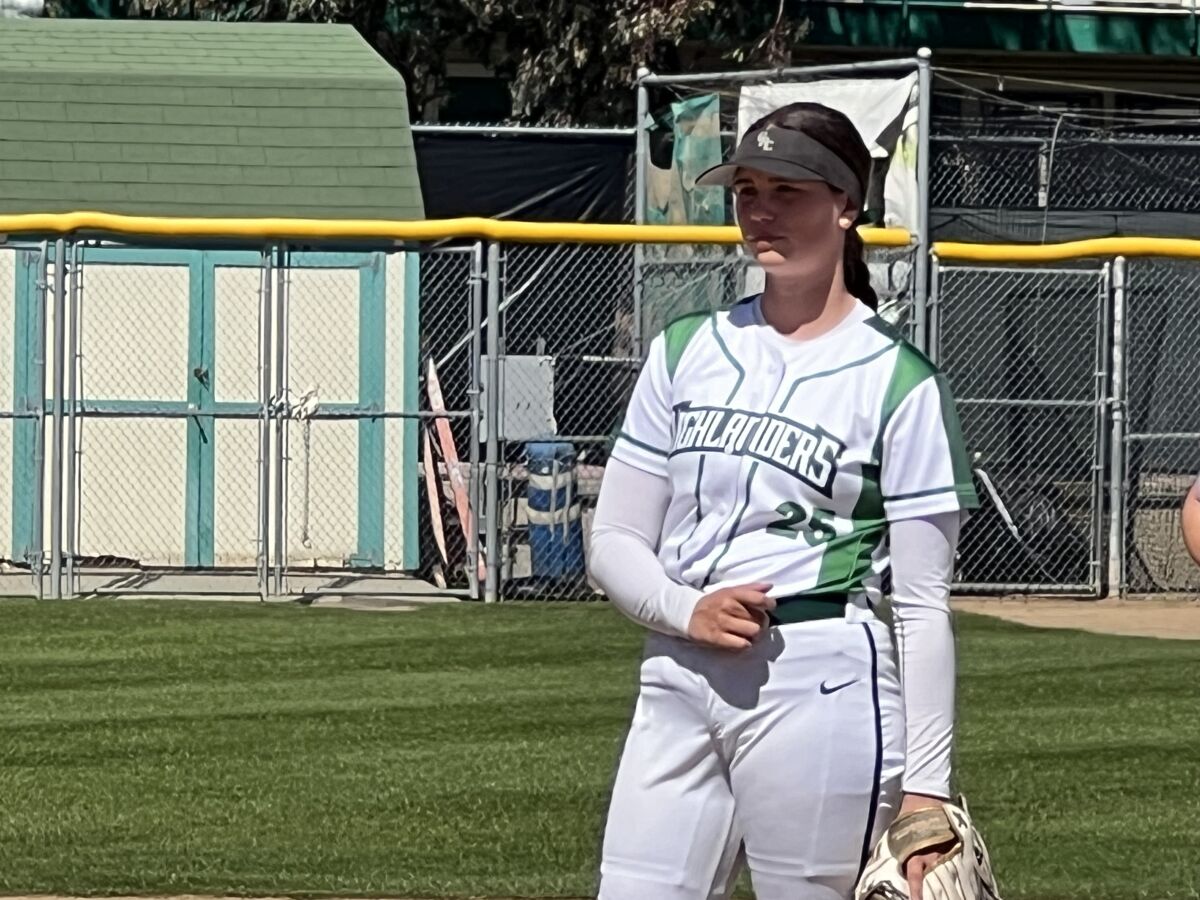 Granada Hills 10, Birmingham 5: Addison Moorman struck out nine for Granada Hills in West Valley League opener. Rebecca Lozano hit a two-run home run for Birmingham.
Sherman Oaks Notre Dame 6, Bishop Alemany 1: Sarah Jacobs hit six goals in six innings, while Nadia Ledon and Marisela Gonzalez hit three goals in an 11-1 Knights lineup.