Germany denies chancellor's criticism of climate protests fueled by raids
A German government spokesman on Friday dismissed the notion that Chancellor Olaf Scholz's comments critical of climate activists could have sparked raids against them this week.
Police searched more than a dozen houses on Wednesday in Germany associated with the group Last Generation by confiscating assets as part of an investigation into its finances. Prosecutors in Munich said they were investigating whether the group was a criminal organization after its repeated road blockades and other protests sparked numerous public complaints.
In the days before the raids, Scholz said he thought it was "completely insane to somehow stick to a painting or on the street."
THE LEFT CHANCELLER GERMAN PAINTS THE "FUCKING" CLIMATE PROTESTURS, BLOCKING THE STREETS, DESTROYING ART
Members of Last Generation hit back, calling the raids a blow to democracy and accusing Scholz of downplaying youth concerns about global warming.
Scholz's spokesman Wolfgang Büchner said he did not know if the chancellor knew ahead of time about the raids, but if he did, it would be unusual.
Asked if prosecutors in Bavaria could have taken Scholz's comments as a signal to crack down on the group, Buechner flatly dismissed the idea.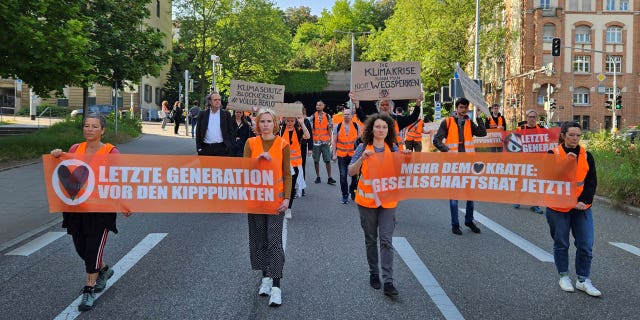 "The German chancellor should be able to directly answer the question of what he thinks about the protests," he said. "I think the chancellor did it appropriately."
Buechner said the German government remains committed to fighting climate change and protesters must abide by the law.
THE GERMAN POLICE SURROUND THE COAL PROTESTUR CAMP AND RAZSILE
A UN spokesman said on Thursday that while governments have a duty to abide by the law, "the people also have a fundamental right to demonstrate peacefully and have their voices heard."
"And it's clear that a lot of the progress that we're seeing in terms of climate change awareness and climate change positive movement is with people holding peaceful demonstrations around the world," Stéphane Dujarric told reporters in NY.
"Climate advocates – led by the moral voice of young people – kept the agenda going through the darkest days. They must be protected and we need them now more than ever," he told German news agency dpa.
CLICK HERE TO GET THE FOX NEWS APP
Last Generation and other groups have said they are planning further protests in Germany in the coming days.