French Open: Iga Swiatek wins second title in a row by defeating Karolina Muchova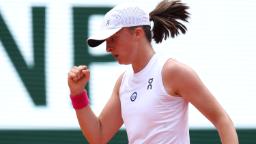 CNN
—

Iga Swiatek won her third French Open in four years with a 6-2 5-7 6-4 win over unseeded Karolina Muchova in the women's final on Saturday.
For most of the match, it looked like the world No. 1 would dominate just as she did by winning her other three Grand Slam titles. After all, Swiatek has never lost a set in a Grand Slam final and she started by showing all the power and consistency that has made her such a power on clay since she won her first French Open title at 19 years in 2020
The formation, and with a 3-0 lead in the second set, Świątek headed for the win, but Muchova began to find her rhythm, throwing shots that used to fly wide or into the net and seemingly break the Pole at will.
After Świątek somehow lost the second set, the match lost any semblance of form in the third as break followed break and both players struggled for that crucial moment that could take them to the Roland Garros title.
And, in the end, it was Swiatek who once again proved her stellar reputation by keeping her serve under pressure and defending a break point to take a 5-4 lead in the final set before crushing Muchova in the next game to win her second straight title. French Open. falls to the ground in celebration.
Followed by…