France: locals organize a picket in memory of the victims of the knife attack in Annecy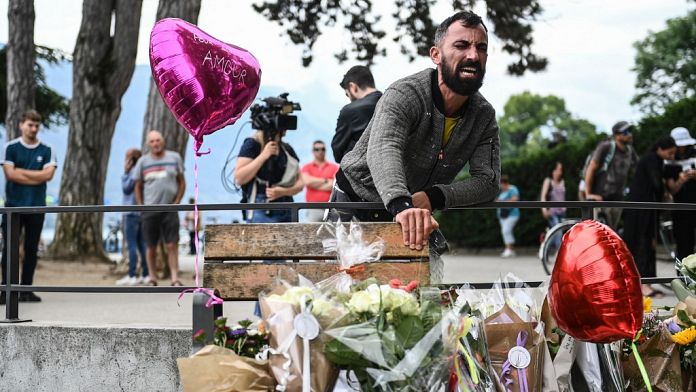 Residents and well-wishers of the Alpine town laid flowers at the site of the attack on Thursday, four of the six victims, including two children, have life-threatening injuries.
After the shock of knife attack in Annecy, in southeastern France, residents organized a picket to commemorate the victims of the attack in a busy lakeside park.
Among them are four small children and two adults. Two children are in critical condition.
The children were injured Thursday morning at a playground in the southeastern Alpine town of Annecy, an idyllic lakeside location popular with foreign and local visitors.
The attacker, a Syrian refugee named Abdelmasih Kh., was detained by the police and is in custody and has undergone a psychiatric evaluation.
"Because the incident is not being treated as a terrorist attack," the man's motives remain unclear, police said.
In some video footage of the incident that has been circulated, the attacker can be heard shouting "in the name of Jesus Christ" while attempting to stab the victims.
He carried a crucifix, and among his belongings was a prayer book. He previously declared himself a Christian of the administration when he applied for asylum.
The attacker received refugee status twelve years ago in Sweden, where he was married and had a son with a woman he separated from last year. Since the end of 2022, he has been in France, where he applied for asylum.
He was denied asylum last Sunday, just three days before the attack, Interior Minister Gérald Darmanin pointed out on Wednesday evening.
The attack sparked a heated political debate in France between conservatives and far-right voters on the issue of migration and the right to asylum.