Following drama at Tokyo Olympics, Belarus-born sprinter Tsimanouskaya will represent Poland at world games
Now cleared to run for Poland after her drama at the Tokyo Olympics, Belarus-born sprinter Krystsina Tsimanouskaya is representing her new country in three events at the world championships this month.
The Polish track federation said Tuesday that Tsimanouskaya is being selected for the 100 meters, 200 and 4×100 relay. She became eligible for her adopted country Sunday.
The track and field worlds are held Aug. 19-27 in Budapest, Hungary.
BELARUS OLYMPIAN KRYSTSINA TSIMANOUSKAYA FEARED 'SOME FORM OF PUNISHMENT' BACK HOME AMID ROW
Tsimanouskaya has lived in Poland since Belarus team officials tried to remove her from the Tokyo Olympics two years ago during a crackdown on dissent by the regime of President Alexander Lukashenko.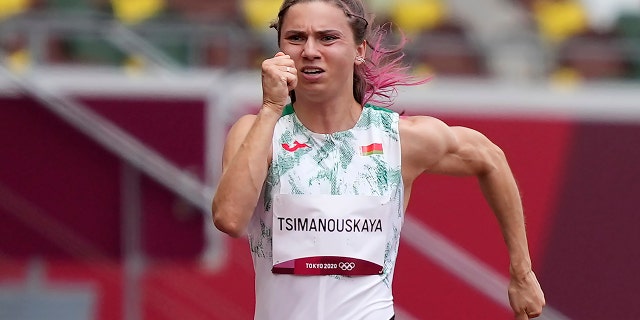 She had run in the 100 heats but, before the heats of her favored 200, she criticized team officials on social media for putting her in the 4×400 relay team against her wishes. She did not train for or compete at the longer distance.
BELARUS OLYMPIAN KRYSTSINA TSIMANOUSKAYA GETS HUMANITARIAN VISA FROM POLAND, OFFICIAL SAYS
When Belarus officials tried to force her to board a flight out of Tokyo, Tsimanouskaya pleaded for help at the airport and Japanese police intervened. She said she feared reprisals if she returned to Belarus and was given refuge in the Polish embassy.
Two Belarusian coaches were stripped of their games credentials by the International Olympic Committee four days later. Tsimanouskaya was by that time in Poland with a humanitarian visa.
The 26-year-od sprinter has competed in national-level meets in Poland this season with best legitimate times of 11.16 in the 100 and 22.75 in the 200. Those times rank her at No. 75 and No. 62, respectively, in the world this year, according to World Athletics lists Tuesday.
CLICK HERE TO GET THE FOX NEWS APP
Belarus and Russia have both been barred from sending teams to the world championships under measures taken by the governing body following the Russian invasion of Ukraine.