Finnish President in Turkey as Erdogan hints at NATO membership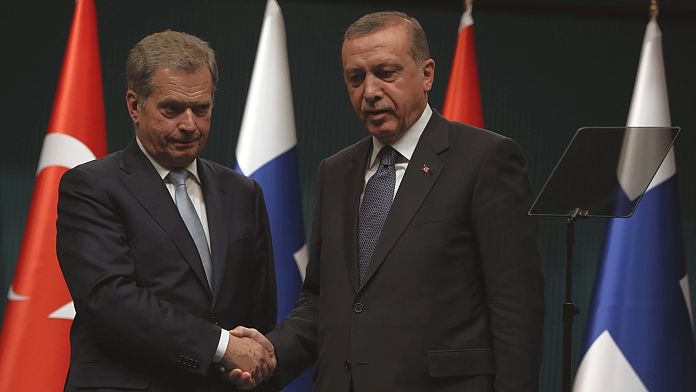 President of Finland Sauli Niinistö will travel to Turkey this week, ostensibly to receive positive news from Ankara about his country's NATO membership bid.
Niinistö arrives in Turkey on Thursday. He will visit areas devastated by a series of earthquakes and aftershocks in February that left tens of thousands dead and millions in need of food, water and shelter.
On Friday, Niinistö will meet Turkish President Recep Tayyip Erdogan in Istanbul.
"In addition to the recovery after the earthquake, the topics of discussion are the geopolitical situation, bilateral relations between Finland and Turkey, as well as the membership of Finland and Sweden in NATO," the report says. said in a statement.
Niinistö's visit — the latest in a series of shuttle diplomacy visits by senior Finnish politicians to bolster support for their stalled NATO application process — came as Erdogan signaled he could finally move on to ratifying the application.
When asked by journalists about giving Finland the green light, Erdogan replied: "God forbid, if it's for the best."
A longer statement by the Finnish president says Erdogan made it clear he wanted to meet "from president to president" when the decision was made for NATO to inform the Finns.
"The Turks hoped that I would be there to confirm the answer when they announced this decision. Of course, I accepted the invitation and will go to get his expression of intent," wrote Niinistö.
So far, 30 NATO members have approved the applications of Finland and Sweden, and 28 have ratified their accession. Only Turkey and Hungary failed to do so.
The Turkish government accuses Sweden of being too soft on groups it considers to be terrorist organizations and existential threats, including Kurdish groups and critics of Erdogan.
However, Ankara has stated that it has fewer problems with Finland's membership.
Speaking on Wednesday during a visit to Berlin, Swedish Prime Minister Ulf Kristersson noted that in recent weeks there have been increasing signs that Turkey is ready to ratify Finland's membership ahead of Sweden.
He said: "We are ready for this situation."
"We do not hide at all that we preferred to be ratified together, to go all the way hand in hand," Kristersson continued. But "I have always also stated that each … country in NATO makes its own decisions about ratification, and we fully respect that."
The Swedish leader said that "very good progress" had been made and "we believe… that we are ready for ratification, but we respect that only Turkey can make Turkey's decisions."
"Of course, we hope for a quick ratification process after the elections in Turkey," he added.
Erdogan is running for a third consecutive term in the May 14 elections.
Turkish officials have been angered by a series of separate demonstrations in Sweden, including a protest by an anti-Islamic activist who burned a Koran outside the Turkish embassy.