Fans Upset Over 'Awful' Billboard Music Awards 2023 Format: 'Nowhere To Watch'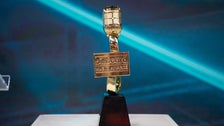 The Billboard Music Awards took an experimental, digital-only approach to its ceremony this year, and fans are asking organizers to "NEVER" do it again.
The award show ― which has aired on various networks over the years including Fox, ABC and NBC ― diverted course from a traditional broadcast or livestream on Sunday, opting instead to share clips of performances and artists' wins via Billboard's website and social media channels.
The BBMAs billed the ceremony as a "reimagined award show concept" this year to "entertain fans with music and exclusive content," according to a press release.
Performances and acceptance speeches didn't take place in a single venue and instead occurred in a number of "global locations, in the midst of sold-out tours, and in custom venues," organizers said.
Critics on X, formerly Twitter, weren't happy with the changes, pointing to the lack of a livestream as well as technical difficulties with the videos on Billboard's website.
Representatives of the award show as well as Dick Clark Productions, the producer behind the ceremony, were not immediately available for comment.