Fact Check: Trump repeats false statements during rally in Waco, Texas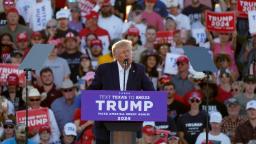 CNN
—

Former President and current presidential candidate Donald Trump returned campaigning on Saturday with a rally speech in Waco, Texas rife with false claims, many of which he had made before.
Trump also made unwarranted attacks on integrity criminal investigations in his conduct on various matters, including the District Attorney of Manhattan test payments for silence to the performer of films for adults. Trump supposed intentional "prosecutor misconduct" without providing prosecution evidence.
Here is a test of some of Trump's other claims in the speech.
Trump claimed that he actually won the 2020 election, but that it was "rigged."
"We won in 2016. In 2020, we won much more, but it was rigged," he said. He later repeated the statement, saying, "This is a rigged system. It's like we had a rigged election."
Facts first: This is one of Trump's regular lies. He honestly lost the 2020 election. Democrat Joe Biden won the Electoral College 306-232, earning seven million more votes than Trump, giving him an advantage in 51.3% to 46.8%.
Trump went on to repeat a version of the false claim that he made over 100 times as president – that the US used to have a trade deficit with China of over $500 billion. On Saturday, he said that before he took office, "China was stealing from us, making $600 billion a year."
Facts first: USA never had a $600 billion trade deficit with China, even if only trade in goods is taken into account and trade in services, in which the US has a surplus with China, is ignored. The pre-Trump record shortfall in goods with China was about $367 billion in 2015. The goods shortage hit a new record of about $418 billion under Trump in 2018 before falling below $400 billion in subsequent years.
Trump repeated his familiar claim that no president before him has profited from tariffs on China. He said: "We imposed huge tariffs, we took hundreds and hundreds of billions of dollars out of China. No other president has taken anything from China – not a dime."
Facts first: As we have repeatedly written, it is not true that no president before Trump received any income from tariffs on goods from China. In fact, US tariffs have been on China for over two centuries, and FactCheck.org informed in 2019, according to the US International Trade Commission DataWeb, in 2019 the US received "an average of $12.3 billion in customs duties annually from 2007 to 2016." In addition, US importers, not Chinese exporters, make the actual tariff payments. study after study during the Trump presidency, it emerged that Americans bear most of the cost of the fares.
During the 2020 election, one of Trump's campaign slogans was "Promises made, promises kept." Now that he is running again, he is repeating what he says were campaign promises he made. On Saturday, he referred to the construction of the border wall, which was carried out under his administration.
"I have built hundreds of miles of the wall and have fully completed this task as promised," he said.
Facts first: His not even close to reality that Trump "finished" the border wall.
According to the US Customs and Border Protection's official "Status of the Border Wall" report two days after Trump left office, about 458 miles of the wall were completed under Trump, but another 280 miles were identified for the wall, so and were not built. completed. A report shared with CNN's Priscilla Alvarez said that of those 280 miles, about 74 miles of barriers were "in pre-construction and have not yet been allocated in areas where there are currently no barriers," and that 206 miles have been erected. "currently under contract, in place of dilapidated and obsolete structures and in places where previously there were no barriers."
Trump said: "We are the country with the highest inflation in the last 50 years."
Facts first: Trump's "50 years" claim is an exaggeration, even though the inflation rate remains high by historical standards.
In June last year, the annual inflation rate reached its highest level since the end of 1981. 9.1%. But approximately 41 years is not rounded up to "50 years"; the actual highest annualized inflation rate in the last 50 years is 14.8% (at the beginning of 1980), well above the level of mid-2022. More importantly, annualized inflation has been declining for eight consecutive months, reaching 6% in February 2023, not even close to the 50-year high.
Trump told his family the story of how, until he became president, the US could not deport "really bad people", including members of the MS-13 gang, to other countries, including Guatemala, El Salvador and Honduras, because these countries "didn't accept". Em."
"The buses that take really bad people back to Honduras and El Salvador and Guatemala and other countries didn't let us go. So I told them, "Well, how do we get them out?" They said, "Well, sir, we can't get them out. We gave up years ago under the Obama administration because they won't give them back," Trump said.
Facts first: It is not true that Guatemala, Honduras, and El Salvador generally did not accept back migrants deported from the United States under the Obama administration, although there were some individual exceptions.
In 2016, shortly before the Trump presidency, none of these three countries were list of countries that Immigration and Customs Enforcement (ICE) deemed "recalcitrant" or uncooperative in accepting the return of their citizens.
For fiscal year 2016, Obama's last full fiscal year in office, ICE reported that Guatemala and Honduras ranked second and third after Mexico in terms of the country of citizenship of people being expelled from the US. You can read a longer fact check from 2019. Here.
Trump repeated the claim that after the US pulled out of Afghanistan, they left "the best $85 billion worth of military equipment in the world."
Facts first: Trump's $85 billion figure is incorrect. Although a significant amount of military equipment provided by the United States to Afghan government forces was indeed transferred to the Taliban after the withdrawal of American troops, the Department of Defense rated that the equipment cost about $7.1 billion — part of about $18.6 billion worth of equipment provided to Afghan forces between 2005 and 2021. And some of the abandoned equipment was disabled before the withdrawal of American troops.
Like other fact checkers previously explained, "$85 billion" is a rounded figure (closer to $83 billion) of the total amount of money that Congress allocated during the war to support the Afghan security forces. A smaller part of this funding was for equipment.
Trump repeated his claim that while he was providing lethal aid to Ukraine, the Obama administration was merely giving Ukraine "pillows and sheets."
Facts first: This is not true. While the Obama administration has indeed refused to provide weapons to Ukraine, it has provided more than that. $600 million assistance in ensuring the security of Ukraine in the period from 2014 to 2016, which was not only about pillows and sheets. Help included anti-artillery and anti-mortar radars, armored Hummers, tactical drones, night vision devices and medical supplies.
Speaking about why he is running for president again, Trump poked fun at billionaire businessman Michael Bloomberg's failed 2020 presidential campaign. He said, "I mean, Mike Bloomberg spent $2.5 billion, he never answered the first (debate) question."
Facts first: Trump's $2.5 billion figure was a big exaggeration. Bloomberg spent just over $1 billion on his campaign for the 2020 Democratic presidential nomination. That's a remarkable amount for a campaign that didn't even last four months, but well under $2.5 billion.
Criticizing the accusation of "softness" towards Russia, Trump said: "I put an end to Nord Stream 2. The pipeline was ready."
Facts first: Trump has not "completed" the Nord Stream 2 gas pipeline project. Although he approved sanctions on companies working on a project to transport natural gas from Russia to Germany, the move came almost three years after his presidency, when the pipeline was already about 90% complete and the state-owned Russian gas company behind project, shortly after the imposition of sanctions, announced that she herself would complete the construction of the pipeline. In December 2020, the company announced the resumption of construction. And days before the end of Trump's term in January 2021, Germany announced that it had extended its building permit in its waters.
The pipeline never started operating; Eventually, Germany halted the project as Russia was about to invade Ukraine early last year. Later that year, the pipeline was damaged in an act of sabotage.
Trump also said that before he spoke out against the pipeline, "no one in this audience, no one in Washington, had ever heard of Nord Stream 2."
Facts first: We can't talk about the knowledge of the people in this Waco audience about the pipeline, but Trump's claim that no one in the nation's capital had heard of Nord Stream 2 prior to Trump's arrival is false. Nord Stream 2 was a constant topic of discussion in the media, government and diplomacy in Washington before Trump took office. In fact, Biden publicly criticized the pipeline as vice president in 2016.
Trump repeated a story he told during his presidency about how he allegedly managed to move the US embassy in Israel from Tel Aviv to Jerusalem for less than $1 million. He said: "I promised to move the embassy to Jerusalem, and I built it … at a fraction of the cost and in a fraction of the time. It was supposed to cost $2 billion, I built it for $500,000."
Facts first: In 2018, the State Department awarded a $21.2 million contract to the company to design and build "comprehensive security upgrades" related to Trump's decision to turn an existing US diplomatic facility in Jerusalem into an embassy. Although the initial modification that allowed the building to open as an embassy cost just under $400,000, this was not the final amount, as Trump has repeatedly stated or strongly suggested.
This story has been updated.