Earthquake in Turkey: at least one person died as new shock brought down more buildings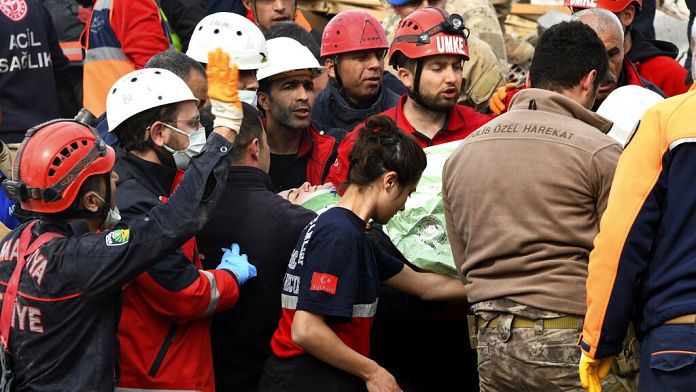 Authorities said a 5.6-magnitude earthquake struck southern Turkey on Monday, three weeks after a catastrophic quake devastated the region that toppled several already damaged buildings and killed at least one person.
More than 100 people were injured as a result of the earthquake that occurred on Monday in Yesilyurt, Malatya province, Yunus Sezer, head of the AFAD disaster relief agency, told reporters. More than two dozen buildings collapsed.
A father and daughter stuck under the ruins of a four-story building in Esilyurt were rescued with injuries. They entered the damaged building to collect things.
Elsewhere in Malatya, search and rescue teams were sifting through the rubble of two damaged buildings that collapsed onto several parked cars, HaberTurk reports. It is not yet clear if anyone was trapped under the rubble.
Malatya was one of 11 Turkish provinces hit by a magnitude 7.8 earthquake that devastated parts of southern Turkey and northern Syria on February 2. 6.
This earthquake resulted in the death of more than 48,000 people in both countries, as well as the collapse or serious damage to 185,000 buildings in Turkey.
The head of AFAD urged people not to enter the damaged buildings, saying that strong aftershocks continue to pose a danger. More than 10,000 aftershocks have occurred in the region since February. 6.
On Monday, the World Bank said it estimated the massive quake had caused "direct damage" of $34.2 billion, equivalent to 4% of the country's GDP in 2021.
The cost of recovery and reconstruction could potentially be twice as high, the World Bank said, adding that GDP losses would also add to the cost of the earthquake.
The World Bank estimates that 1.25 million people are temporarily homeless.
Meanwhile, fans of the Turkish football team Besiktas scattered soft toys on the field during Sunday's match in support of children affected by the earthquake. Toys and winter clothes were thrown into the stadium to be given to children in the earthquake-affected regions.