Eagle Rock wins City Section Division II basketball title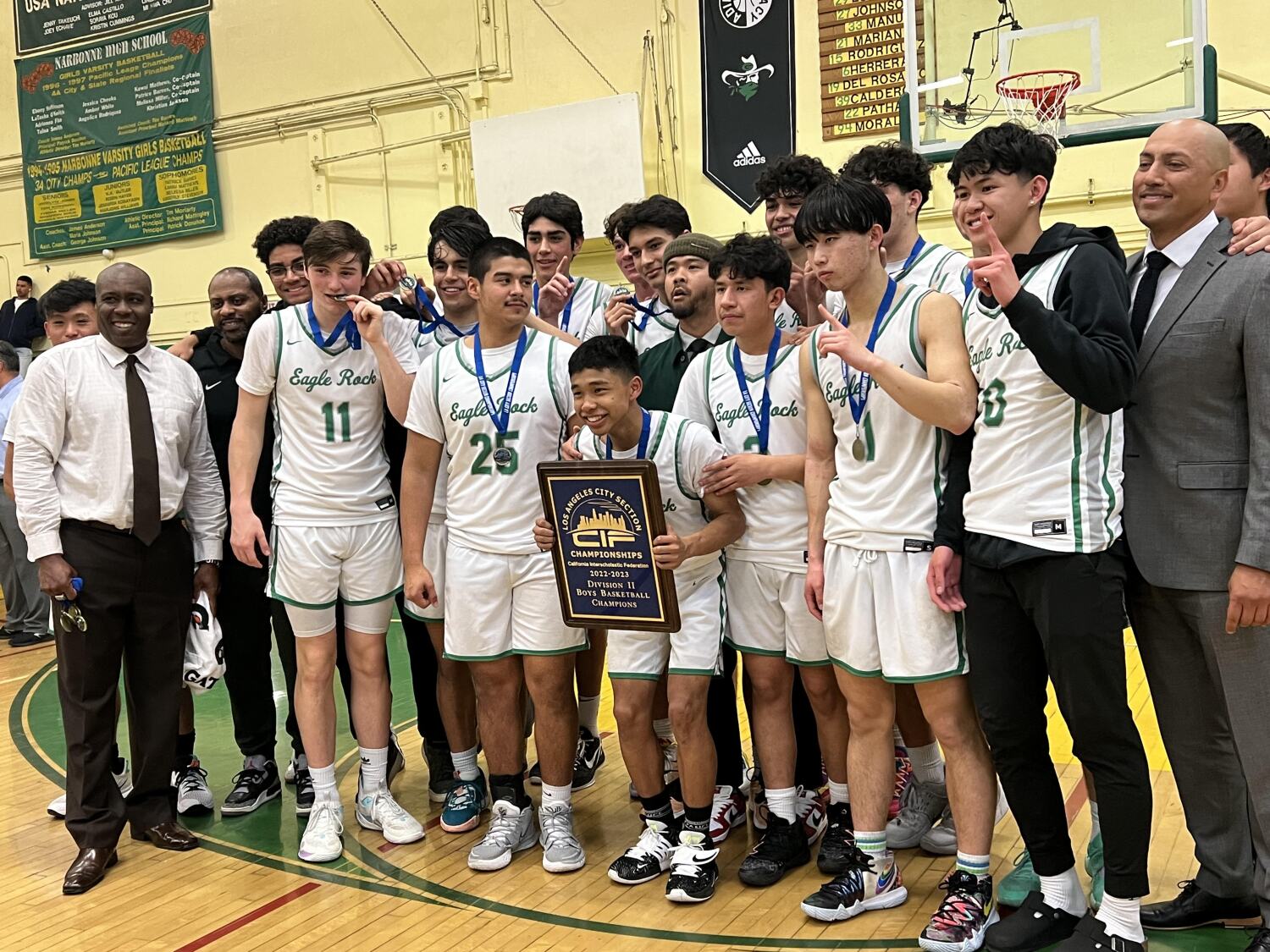 As awards were handed out to his players on Thursday night for winning the City Section II Boys' Basketball Second Division Championship with a 53-49 win over South Gate in Narbonne, Eagle Rock coach Christian Dunbar was asked if it was his most satisfying title since the win. . two earlier in his career.
"That's right," he said.
The Eagles (24-5) have overcome injuries that could have stopped others, such as the loss of their best player, defenseman Gavin Gonzalez, to an ACL tear on Dec. 1. 19. They won 14 games in a row.
"This is not an individual. We play together as a team," said senior Benicio Curiel, who scored 15 points and made four free throws in a row in the fourth quarter to prevent the return of the South Gate.
The difference was in free throws in the fourth quarter. South Gate took two places out of 10, and Eagle Rock took nine places out of 13.
Eagle Rock made good progress with two improving sophomores. Santino Leone scored 11 points and Max Yutan added nine points.
"They've made great strides," Dunbar said of his sophomores. "It was good to see them. They improved a lot as the season progressed."
The Eagles also received donations from a pair of footballers led by All-City linebacker Brooklyn Pasten.
"They brought that toughness to our basketball team," Dunbar said.
South Gate, aiming for their first city title, received 15 points from Jonathan Tedtautaugh.
Basketball for girls
Won 69, Washington Prep 37: No. The two-seeded (20-5) Tigers went on a 38-5 streak after trailing 32-31 with 4:01 left in the third quarter to win their second city section championship by clinching the Division III title at Narbonne.
Junior point guard Andrea Cervantes scored 22 points and led a slick defense that included 32 assists. Yamilet Ferreira made six triples and finished with 22 points. Freshman Hellen Cervantes added 10 points.
Juju Lucien scored 13 points for Washington Prep. 1 seed
football for boys
Orange Lutheran 3, Littlerock 0: The Lancers got two goals from Jody Pineda to win the Division 4 championship on the snow at Littlerock.
Quartz Hill 3, Los Alamitos 2: Quartz Hill won the Division 3 championship.
Baseball
Orange Lutheran 12, Hamilton, Arizona 5: Freshman Josiah Hartshorne had three RBIs and Derek Curiel had two doubles in the Arizona win.
La Salle 2, st. Pavel 1: Travis Ortega landed La Salle the winning shot.
Sierra Canyon 2, Thousand Oaks 1: Three pitchers combined into four hitters for Sierra Canyon in a 4-0 win.