Dolly Parton Reveals Why Husband Carl Dean Rarely Does Public Events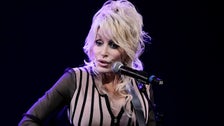 Dolly Parton says she understands why her husband isn't a fan of the red carpet.
According to a preview published Wednesday by Just Jared, the country icon reflects on her nearly six-decade marriage to Carl Dean during the upcoming final episode of "What Would Dolly Do? Radio."
"Carl has never been in the limelight and all, never wanted to be in it," she says on the Apple Music 1 show, per Just Jared. "He don't like it."
"He went to one thing with me early on when we first married," she said of the event. "He came out there taking off his tuxedo, his tie and all that and said, 'Don't ever ask me to go to another one of these damn things because I ain't going.' I never asked him and he never did."
"He's kind of a loner so he doesn't really like being with anybody but me," she said at the time. "He's not one to kind of get out and socialize that much. He loves living on the farm, taking care of the property as he has for all these many years."
The final episode of "What Would Dolly Do? Radio" is set to air Friday.