Djokovic wins Australian Open and advances to 22nd career Grand Slam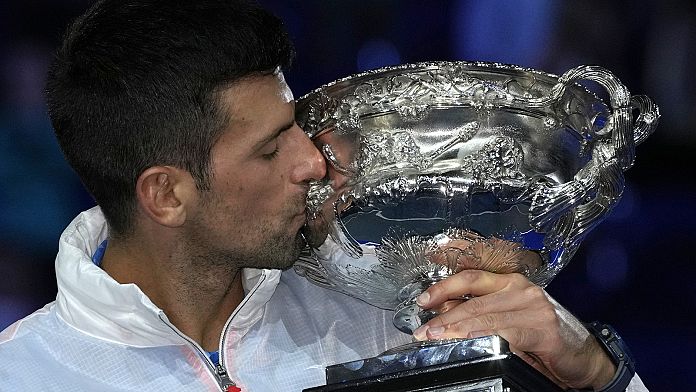 Novak Djokovic beat Stefanos Tsitsipas to win his 10th Australian Open title and equal Rafael Nadal's 22 grand slam crowns on Sunday – an achievement he called "the biggest win of my life."
The Serb will also return to world number one, beating the third seed Greek 6-3, 7-6 (7/4), 7-6 (7/5) at the Rod Laver Arena.
After the victory, the 35-year-old climbed into the player's box to hug his mother and brother, and burst into tears, collapsing to the ground, sobbing.
His father, Srjan, disappeared from the audience after being filmed earlier with a group of people with Russian flags – one with an image of Vladimir Putin – following Djokovic's quarter-final win, sparking controversy.
The victory over Tsitsipas completed Djokovic's remarkable comeback to Melbourne Park after he was deported from Australia last year for not being vaccinated against COVID-19.
"I have to say it was one of the toughest tournaments I've ever played in given the circumstances I didn't play last year and came back this year," he said.
"I want to thank all the people who have made me feel welcome, comfortable, being in Melbourne, being in Australia."
"I try to pinch myself and really relive those moments. It's a long way," Djokovic added.
"Only my team and family know what we've been through in the last four or five weeks and so I would probably say this is the biggest win of my life, given the circumstances."
With his three-year travel ban lifted from Australia, Djokovic extended his unbeaten streak in Melbourne to 28 matches, the longest streak in a tournament for a man in the Open era since 1968.
He added his 10th Melbourne Trophy to seven at Wimbledon, three at the US Open and two at the French Open, tying his rival Nadal for the most men in tennis history.
Margaret Court, 24, Serena Williams, 23, and Steffi Graf, 22, have the most women.
It was also Djokovic's 93rd tour-level ATP title, allowing the 35-year-old Serbian to break a tie with Nadal for fourth most titles. Jimmy Connors still holds that record with 109.
Djokovic competed in his 33rd major final, Tsitsipas in his second.
He outperformed the Greek throughout the match, especially in two tie-breaks.
Djokovic took a 4-1 lead in the first leg and after 4-all scored three points in a row.
He then took a 5-0 lead in the final tiebreak. After winning a match point, he pointed to his temple, climbed into the stands, brandished his fist and jumped with his coach Goran Ivanisevic and other members of the entourage, and collapsed with joy.