'Dark Month': Spain's homicide rate hits 20-year high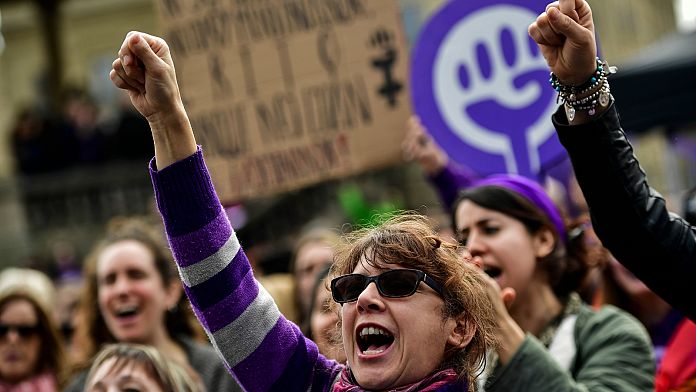 This December was Spain's worst month for gender-based violence in 20 years, with 13 women killed in 28 days and another case still being investigated by police.
At least six incidents occurred after complaints had already been filed. The Spanish government is increasingly concerned about the worsening situation – indeed, this is the highest number of gender-based killings since records began in 2003.
The country's interior minister, Fernando Grande-Marlasca, expressed "deep disappointment" at the "unusual and horrific spread" of such crimes and ordered security forces to provide maximum protection to the victims.
Currently, 723 women are considered to be at increased risk of domestic violence and a total of 31,161 women are included in the Spanish authorities' gender-based violence monitoring system.
The Ministry of Equality held a crisis meeting
In December of this year, an already tragic situation got even worse as the number of cases of violence against women increased even more in the past few weeks. Since Christmas Eve, a total of six deaths and two more people with serious injuries have been reported.
The Equality Ministry, which convened its crisis committee for the first time on Wednesday, has already explained that the holidays are a particularly dangerous time for abused women and urged institutions and the general public to be "on their guard" during this particularly fraught time of year.
The ministry, working together with other government departments, sent a clear message to the country. On Thursday, they announced that Spain has a law against gender-based violence and that its protocols are among the most advanced in the world, but there are still cracks in the system that need further attention.
They also insisted that gender-based violence is an issue that should be addressed not only by the state, but also by society.
Holidays, for example, mean that potential victims often have to spend more time in close contact with their abusers, Miguel Lorento, a former government spokesman for combating gender-based violence, told EFE.
Lorento also noted that the family's possible intervention at Christmas could make some men feel like their authority was being diminished.
"People are spending more time together, they don't have to go to work or take their kids to school, which allows conflicts to continue…with more violence," Lorente said, noting how abusive men react negatively to the presence of family and friends in their partners' lives. .
Despite all this, Interior Minister Fernando Grande-Marlasca argued that the crimes recorded these days "do not reflect any temporal trend or any other regularity", although he does believe that one can speak of the "sawtooth" phenomenon forms" when the number of cases reaches a peak. in a particularly short time frame.
Timeline of dark week
Since Christmas Eve, there have been at least eight attacks on women, six people have died and two have been hospitalized.
The first occurred in Granada last Saturday after a 29-year-old man shot and killed his wife in front of two minor children. The victim remains in the intensive care unit of the Granada hospital, while the police are still trying to find the aggressor, who was not reported to the police before the incident.
There were two more attacks on Christmas Day. The first occurred in Matamala de Almasan, when the Castilla y León emergency services received a call warning of a fire in an apartment building. The body of a 44-year-old woman was found in the house, an autopsy showed that she suffered a cruel fate.
The victim in question made allegations against her ex-partner just three days before her death, although evidence appears to suggest that the man was in another city when the attack took place. The deceased woman's neighbor, who called 911 and was with her that night, was arrested as a suspect.
The police are currently investigating their relationship to determine if they were a couple or just friends, and to assess whether the crime could be considered an example of gender-based violence.
On the same day, a 32-year-old woman in La Rioja fell to her death from the second floor and is in critical condition in the hospital. Police arrested her partner, a 45-year-old man, on suspicion of attempted murder.
The last confirmed murder took place on 26 December in Barcelona. A 69-year-old man was arrested on charges of murdering his 88-year-old partner, whose body showed signs of violence. The accused assailant, who had not previously been apprehended by police, called emergency services himself.
The next day, a 45-year-old man stabbed his partner to death in their bar in Bilbao. He was arrested after calling the police the next morning to confess to the crime. The government delegation is still collecting evidence to determine if this is yet another example of gender-based violence.
Three women killed in less than 24 hours
In less than 24 hours between Wednesday and Thursday, three more women were killed.
The first, 34-year-old, was only a week away from giving birth. She was stabbed to death on the night of December 28 by her 52-year-old former partner in Toledo.
The victim had two underage children and the alleged killer had a history of domestic violence. The murder is also being investigated as another possible instance of gender-based violence.
On the same day, a 37-year-old man in Madrid stabbed to death the 20-year-old daughter of his former partner, against whom he had an injunction. The suspect later attempted suicide with the same weapon.
This Thursday, the national police arrested a 22-year-old man in connection with the death of his partner, who fell from the sixth floor in Benidorm. Sources familiar with the investigation told EFE that a man was arrested to determine if he was responsible for her death.