Daniel Radcliffe Honors His Paralyzed 'Harry Potter' Stunt Double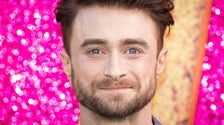 Holmes is eight years older than Radcliffe but served as his stunt double for all eight "Potter" films. He suffered an on-set spinal injury in 2009, however, breaking his neck after being propelled backward into a wall while test filming for the final two installments.
"I wanted to make something about Dave for years because he's extraordinary and I wanted to share that with the world," Radcliffe told People for a story published Tuesday. "I was trying to do it myself. We shot some stuff and I didn't really know what I was doing."
"I thought I might know how to direct a documentary," he added. "I absolutely didn't."
Radcliffe ultimately hired "Potter" video operator Dan Hartley to direct the film.
The documentary opens with Holmes as Harry Potter performing in mid-air on a broomstick, showing just how essential he was to bringing J.K. Rowling's literary vision to the screen.
Radcliffe was initially intent on making a documentary about stunt men and their invaluable work in general, but it shifted to a focused look at Holmes before and after his accident. For Radcliffe, it also served as a trip down memory lane.
"He was somebody that was so incredibly fun to hang with when I was young," Radcliffe added. "But then as I grew up he became a real guide to me, and kind of mentor and someone who really looked out for me, and that really has just continued as we've grown."
Holmes became an ambassador for the RNOH Charity. He's also a producer, including for the podcast "Cunning Stunts," which featured other stunt professionals discussing the art.
Holmes told People he's "not ready to watch" the documentary yet, but knows it was made "with love and sensitivity."
"I have a team of Avengers that are wheelchair users or people from all different aspects of the disability spectrum that have seen this thing and said, 'No, it's really empowering and it's really positive and you're going to do a good thing for the world,'" he said.
"Those opinions are the ones that matter to me," Holmes concluded.