'Daily Show' Guest Host Gives 'Evil' Nickname To Argentina's 'Trumpy' New Leader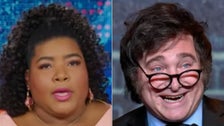 Javier Milei — a far-right political outsider and former TV pundit known for his distinctive mop of hair and outlandish, extreme rhetoric and positions — won the country's presidential elections on Sunday. He's routinely been likened to former President Donald Trump, whom he's said he admires.
Milei pledged during his campaign to slash government spending and bureaucracy, and proposed eliminating the ministries of sports and tourism, culture, environment, women and diversity, and others.
"Hang on. Evil Austin Powers wants to get rid of the environment, women and culture? That's everything you need to have a country," Sloan said while guest hosting "The Daily Show" on Monday.
"First Trump, now this," she added. "How come every time a TV personality gets elected, they're a psychopath? Why can't y'all vote for someone good like Steve Harvey?"
She also wondered how Milei could rein in Argentina's high rate of inflation "when he can't control his own sideburns."
Watch below on "The Daily Show."