Credit Suisse will borrow 51 billion euros from the Central Bank of Switzerland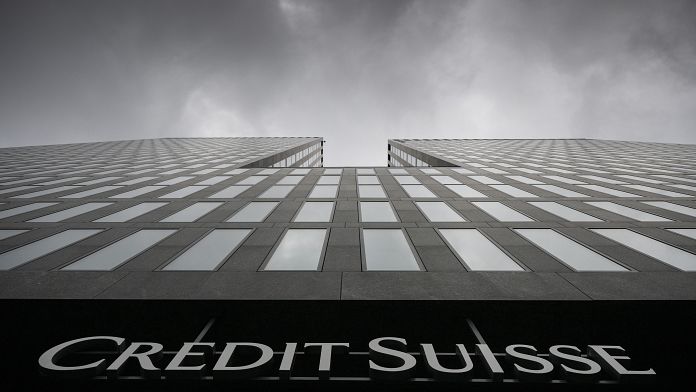 Credit Suisse said it would take steps to bolster its finances by borrowing up to 51 billion euros from the Swiss central bank after its shares plunged, pushing other major European lenders down following bank failures in the United States.
"This additional liquidity will support Credit Suisse's core business and customers as Credit Suisse takes the necessary steps to create a simpler and more focused bank that is customer-focused," the bank said.
Fanning new concerns about the health of financial institutions following the recent collapse of Silicon Valley Bank and Signature Bank in the US, Credit Suisse shares lost more than a quarter of their value on Wednesday.
The share price hit an all-time low after the bank's largest shareholder, the National Bank of Saudi Arabia, told news outlets it would not invest more money in a Swiss lender that was in trouble long before the collapse of US banks.
The Saudi bank is seeking to avoid regulation that comes into effect at stakes above 10% by investing around CHF 1.5 billion to acquire a stake just below that threshold.
The turmoil caused an automatic pause in trading in Credit Suisse shares in the Swiss market and led to other European bank shares dropping, some of them in double digits.
Speaking at a financial conference in the Saudi capital Riyadh on Wednesday, Credit Suisse chairman Axel Lehmann defended the bank, saying, "We've already taken the cure" to mitigate the risks.
When asked if he would rule out government assistance in the future, he said: "This is not a topic. … We regulate. We have strong capital adequacy ratios, a very strong balance sheet. We're all on deck, so it's not a topic at all."
Switzerland's central bank announced late Wednesday that it was ready to act, saying it would back Credit Suisse if needed. The bank's statement did not specify whether the support would come in the form of cash, loans or other assistance. Regulators said they believe the bank has enough money to meet its obligations.
A day earlier, Credit Suisse reported that managers had identified "significant deficiencies" in the bank's internal control system for financial reporting as of the end of last year. This raised new doubts about the bank's ability to weather the storm.
Shares of Credit Suisse fell about 30% to around 1.6 Swiss francs (1.6 euros) before returning to a 24% loss to 1.70 francs (1.72 euros) at the close of trading on the SIX stock exchange. At its lowest point, the price is down over 85% since February 2021.
Following a joint announcement by the Swiss National Bank and the Swiss financial market regulator, shares also took some space on Wall Street.
The shares suffered a long and steady decline: in 2007, the bank's shares were trading at over 80 francs (81.72 euros) each.
Fearing possible hidden problems in the banking system, investors hastened to sell the bank's shares.
Shares of French Societe Generale SA at one point fell 12%. French BNP Paribas fell more than 10%. The German Deutsche Bank fell 8%, while the British Barclays Bank lost almost 8%. Trading in two French banks was briefly suspended.
The STOXX Banks Index of 21 leading European lenders fell 8.4% after a relative calm in the markets on Tuesday.
U.S. equities were mixed on Wednesday, with the Nasdaq composite index up 0.1% and the S&P 500 down 0.7%. The Dow Jones Industrial Average fell 0.9% after larger losses earlier in the session.
Japanese banks resumed their downtrend, with Resona Holdings No. 1 in the country. 5 banks, a drop of 5%, while other large banks fell more than 3%.
Turbulence arose the day before the meeting of the European Central Bank. President Christine Lagarde said last week, before the US bankruptcy, that the bank was "very likely" to raise interest rates by half a percentage point to fight inflation. Markets have been watching closely to see if the bank will survive despite the latest turmoil.
Credit Suisse poses "a much bigger problem for the global economy" than the collapsed U.S. midsize banks, said Andrew Kenningham, chief European economist at Capital Economics.
It has several subsidiaries outside of Switzerland and trades for hedge funds.
"Credit Suisse is not only a Swiss problem, but a global one," he said.