Courteney Cox Shares Tribute To Matthew Perry With Unaired 'Friends' Clip
The actor showed a moment from "Friends" she shared with Perry, who died in October at 54 years old, in a post on Instagram Tuesday. In the scene, her character Monica Geller is unexpectedly revealed to have slept with Perry's Chandler Bing.
"I am so grateful for every moment I had with you Matty and I miss you every day," Cox captioned the clip. "When you work with someone as closely as I did with Matthew, there are thousands of moments I wish I could share. For now here's one of my favorites."
The Season 4 moment from "The One With Ross's Wedding" saw the entire cast travel to Great Britain for a destination wedding. It ultimately spawned a series-long relationship that Cox revealed wasn't actually planned by the writers.
"Chandler and Monica were supposed to have a one-night fling in London," she wrote on Instagram. "But because of the audience's reaction, it became the beginning of their love story. In this scene, before we started rolling, he whispered a funny line for me to say."
Cox concluded: "He often did things like that. He was funny and he was kind."
The scene that aired saw Ross (David Schwimmer) burst into Chandler's hotel room to joyously announce he's getting married today, as Chandler hides Monica under his covers. She eventually surfaces and says, "Do you think he knows I was here?" to studio applause.
In unaired footage posted by Cox, Monica says the same — before adding: "OK, your turn," and summoning him back under the covers. The studio audience reaction was all the more raucous, with Cox eventually reacting: "He told me to say it, he did!"
Perry was 29 years old at the time.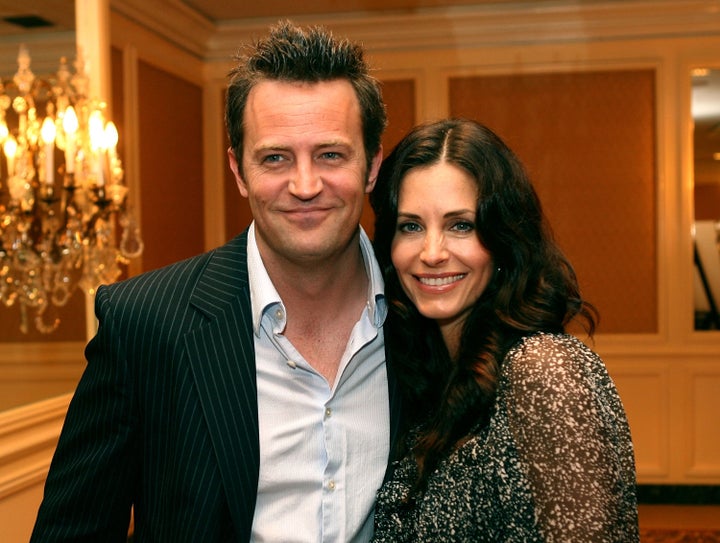 "You are all a tribute to each other," actor Laura Dern commented on the post. "And the legacy you created together is forever part of a cultural family we will always have and cherish. Thank you, Matthew, for your amazing talent and humor, and your longing to heal others."
Perry died of an apparent drowning at his Los Angeles home Oct. 28 and was reportedly found by his assistant in his jacuzzi. The actor struggled with lifelong substance abuse issues, which he chronicled in a memoir titled "Friends, Lovers and the Big Terrible Thing." Perry, who was reportedly plotting a biopic of his life, was remembered by his fellow "Friends" actors with a touching tribute after his death.

Sign up for Peacock
to stream NBCU shows.