Conflict between Kremlin and Wagner group 'probably reached climax'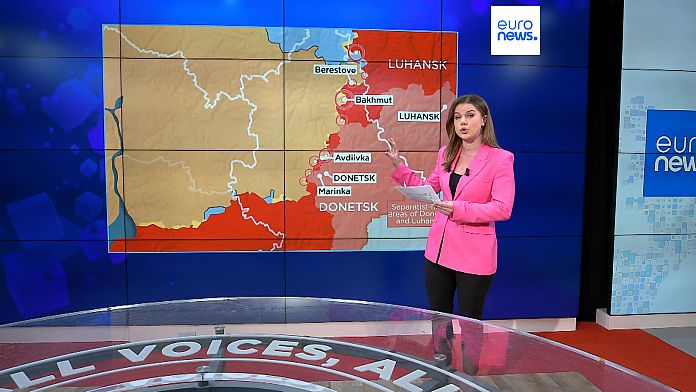 Euronews correspondent Sasha Vakulina tells us about the maps that track the battle for Bakhmut in eastern Ukraine.
According to the Institute for the Study of War (ISW), the conflict between the Russian Defense Ministry and Wagner group leader Yevgeny Prigozhin likely reached its climax with the Kremlin using Bakhmut as an opportunity to use Wagner's forces.
Suspicious of the growing power of Prigozhin, who seeks more influence in the Kremlin, the Russian Defense Ministry is trying to weaken his position.
ISW states: "Putin ultimately allowed the Russian Ministry of Defense to retake control of the Bakhmut direction from Prigozhin in January, as Wagner forces failed to achieve the promised victory over Bakhmut by the end of 2022."
In 2022, Prigozhin increased his Wagner contingent by 40,000 by recruiting recruits from Russian prisons, but earlier this year the Kremlin issued an order that he could no longer use those troops.
The high death toll in the bloody Battle of Bakhmut also weakened Wagner's power; The UK Department of Defense estimates that about half of the prisoners who fought on the side of the paramilitary organization were killed.
This, combined with the ban, could mean that Prigozhin is forced to reduce the scale or intensity of Wagner's operations in Ukraine.
He had already threatened to withdraw Wagner's troops from Bakhmut and hinted that the Kremlin was using Wagner's troops as cannon fodder, bearing the brunt of the intense attritional fighting in Bakhmut to keep Russian forces alive.
Meanwhile, Russia continued its offensive operations near Bakhmut, a symbolically important city, but so far failed to encircle the city.
Watch the full video in the player above to find out more