Colombian Navy captures mysterious submarine with over a ton of cocaine and two lifeless bodies on board
A drug smuggling operation things went awry in the Pacific over the weekend when toxic gases were accidentally released inside a submarine believed to be used by smugglers to transport drugs, killing two suspects and making two others seriously ill, according to the Colombian Navy.
Nearly 3,000 pounds of cocaine worth $87 million were inside a submarine bound for Central America.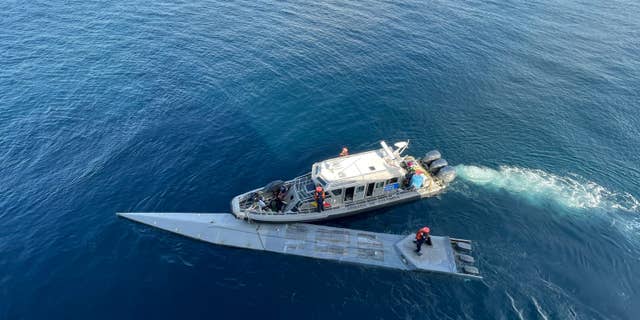 Two of the suspects, who were found "in poor condition" on board the ship, received medical attention before being transported. to local law enforcement care.
The submarine, about 49 feet long, had some kind of accident that resulted in "toxic gases being released from the fuel," the Colombian Navy said.
Ohio MEN ARE ARRESTED FOR ALLEGED ATTEMPT TO SEND DOZENS OF WEAPONS TO MEXICAN CARCARTELS
Drug trafficking organizations are increasingly turning to homemade submarines and semi-submersible devices to evade law enforcement.
José Samir Renteria-Cuero, the 51-year-old Colombian man who pioneered the use of semi-submersibles, was sentenced eight years ago to 27 years in prison.
CLICK HERE TO GET THE FOX NEWS APP
The Justice Department said that Renteria-Cuero started out as a mechanic and built ships specifically for drug trafficking, and then "recruited sailors to participate in maritime cocaine smuggling operations."
"The Colombian Navy will continue to deploy all of its capabilities to counter the threat of drug trafficking structures that commit crimes in the Colombian Pacific," the Colombian Navy said Sunday.