Chinese President Xi Jinping announces visit to Russia for talks with Vladimir Putin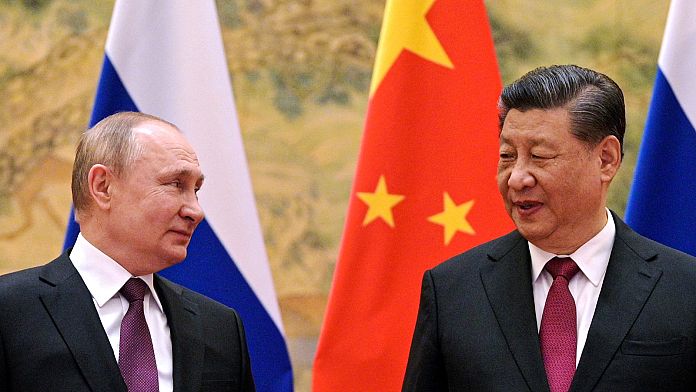 Chinese President Xi Jinping plans to visit Russia next week from Monday to Wednesday in a clear show of support for Russian President Vladimir Putin amid escalating East-West tensions over the war in Ukraine.
Russia's ongoing invasion of Ukraine is expected to dominate discussions between Putin and Xi. China has refused to condemn Moscow's aggression and has sought to position itself as neutral in the conflict, even as Beijing said last year that it had an "unlimited" friendship with Russia.
The leaders' meeting was announced by both countries on Friday.
China has said that the sovereignty and territorial integrity of all countries should be respected, condemning Western sanctions and accusing NATO and the US of provoking Russia into military action.
On Thursday, Chinese Foreign Minister Qin Gang told his Ukrainian counterpart Dmitry Kuleba that Beijing was concerned about the year-long conflict getting out of control and urged Moscow to negotiate a political settlement.
China "always adheres to an objective and fair position on the Ukrainian issue, is committed to promoting peace and advancing negotiations, and calls on the international community to create conditions for peaceful negotiations," Qin said.
Kuleba later tweeted that he and Qin "discussed the meaning of the principle of territorial integrity."
"I stressed the importance of the peace formula (of Ukrainian President Volodymyr Zelensky) to stop the aggression and restore a just peace in Ukraine," wrote Kuleba, who spoke with US Secretary of State Anthony Blinken on the same day.
Wang Wenbin, a foreign ministry spokesman, said at a daily briefing on Friday that Xi "will have an in-depth exchange of views with President Putin on bilateral relations and major international and regional issues of mutual interest, will promote strategic cooperation and practical cooperation between the two countries." and give new impetus to the development of bilateral relations."
"The world is now entering a new period of upheaval and reform with the accelerated evolution of the changes of the century. As permanent members of the UN Security Council and important major countries, the significance and impact of China-Russia relations goes far beyond the bilateral sphere," he added.
The trip comes after destruction of an American drone over the Black Sea after a collision with Russian fighter jets that brought the two countries into close proximity to direct conflict following Moscow's invasion of Ukraine a year ago.
The Kremlin on Friday also announced Xi's visit, saying it would take place "at the invitation of Vladimir Putin."
Xi and Putin will discuss "further development of comprehensive partnership and strategic interaction between Russia and China" and exchange views "in the context of deepening Russian-Chinese cooperation in the international arena," the Kremlin said in a statement.
The two leaders will also sign "important bilateral documents," the statement said.
Putin invited Xi to visit Russia during a video conference held in late December. The visit, according to Putin, can "demonstrate to the whole world the strength of Russian-Chinese ties" and "become the main political event of the year in bilateral relations."