Center-right Estonian Reform Party wins first place in parliamentary elections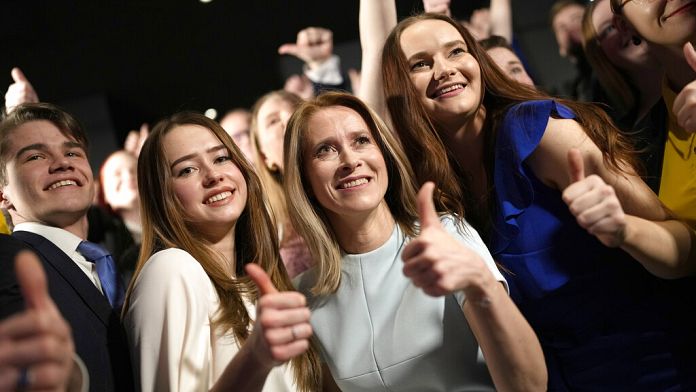 The Estonian Reform Party, led by Prime Minister Kaja Kallas, took first place in Sunday's parliamentary elections with 31.6% of the vote.
A total of nine political parties have put forward candidates for the 101-seat Estonian Parliament, or Riigikogu. More than 900,000 people were eligible to vote in the general election, and almost half of them voted early.
With 99% of the vote counted, the Reform Party won 31.6% of the vote, followed by EKRE with 16.1% and the Center Party, traditionally supported by Estonia's large ethnic Russian minority, with 15%.
Continuing to put pressure on Russia
Initial results mean that the Reform Party is exceptionally well positioned to take the lead in shaping the next Estonian government; his support means 37 seats in the legislature. But it will need junior partners to form a coalition with a comfortable majority to govern.
"This result, which is not final yet, will give us a strong mandate to build a good government," Kallas told her party colleagues and cheering supporters in a Tallinn hotel in the capital.
"I think that with such a strong mandate [aid to Ukraine] will not change, because other parties have chosen the same line, except for EKRE and, maybe, the Center," she said.
Kallas said the election leaves her party in a strong position to form a coalition government that will continue to put pressure on Russia:
"We need to carry out serious reforms [during the new term] regarding the green transition, for example. We must also invest in our security. Our aggressive neighbor has not disappeared and will not disappear, so we need to work with this."
Inflation and the economy
Kallas is facing a challenge from the far-right populist Conservative People's Party of Estonia (EKRE), which wants to limit the impact of the Ukrainian crisis on the Baltic nation and blames the current government for Estonia's high inflation rate.
Martin Helme – party leader:
"We had the highest inflation in Europe. We had the biggest drop in living standards, the biggest drop in the economy. So we are moving very quickly towards a very multi-faceted crisis in Estonia and I don't see the liberal parties really understanding this or being able to resolve it."
To stay in power, the Reforms will again have to form a coalition with one or more of the parties that have entered the 101-seat parliament of the Baltic state.