Cassie Accuses Diddy Of Rape And Abuse In New Lawsuit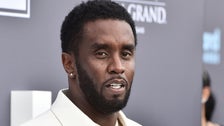 Singer-songwriter Cassie has accused rapper Sean "Diddy" Combs of repeated physical and sexual abuse over a span of more than a decade, according to a new lawsuit obtained by HuffPost.
The 35-page complaint filed in New York details numerous allegations during and after their relationship, which started when Cassie was 19 and Diddy was 37. Of the slew of allegations, Cassie claims that Diddy forced her to engage in sexual acts with male sex workers while he watched and recorded, raped her after he forced himself into her home following their breakup and blew up the car of rapper-producer Kid Cudi, who had been romantically interested in her.
Kid Cudi backed up the allegation regarding his car in a statement to The New York Times through a spokesperson.
Cassie claims in the lawsuit, which was first reported by The New York Times, that he regularly beat her, even in the presence of his employees, and that he pushed her into drug addiction. Cassie claims in one instance that Diddy "dangled" a friend of hers over a balcony.
"After years in silence and darkness, I am finally ready to tell my story, and to speak up on behalf of myself and for the benefit of other women who face violence and abuse in their relationships," Cassie, whose full name is Casandra Ventura, said in a statement to HuffPost.
Diddy "vehemently" denies the allegations, according to his attorney Ben Brafman.
The lawsuit also names Bad Boy Entertainment, Bad Boy Records, Epic Records, Comb Enterprises and 10 other unnamed "Doe Corporations" as defendants alongside Diddy.
The suit comes as multiple other physical and sexual abuse accusations against men in the entertainment industry have surfaced in the past couple of weeks. Former Recording Academy president Neil Portnow and former Epic Records CEO Antonio "L.A." Reid are also facing allegations. And actor and singer Keke Palmer has accused her ex-boyfriend of abuse and is seeking sole custody of their child.
The suit also arrives a couple of months after Diddy returned the publishing rights to his artist signees at Bad Boy Entertainment in September. Singer Aubrey O'Day of Danity Kane, a group signed to Bad Boy, said that the rights were available to the Bad Boy artists only if they signed a nondisclosure agreement preventing them from disparaging Diddy and his companies, Complex reported.
Cassie acknowledged that the suit has been filed as a result of the soon-to-expire Adult Survivors Act in New York, which allows individuals who wish to pursue sexual abuse allegations to sue their abusers even if the statute of limitations has expired.
"It became clear that this was an opportunity to speak up about the trauma I have experienced and that I will be recovering from for the rest of my life," Cassie said in her statement.
Brafman claims that Cassie had demanded that Diddy pay her $30 million "under the threat of writing a damaging book about their relationship, which was unequivocally rejected as blatant blackmail."
"Despite withdrawing her initial threat, Ms. Ventura has now resorted to filing a lawsuit riddled with baseless and outrageous lies, aiming to tarnish Mr. Combs' reputation and seeking a pay day," Brafman said.
Cassie's attorney, Douglas Wigdor, rejected Brafman's claim and said that Combs "offered" her the money to "silence her and prevent the filing of this lawsuit."
"She rejected his efforts and decided to give a voice to all women who suffer in silence. Ms. Ventura should be applauded for her bravery," Wigdor told HuffPost.
The news began trending on X, formerly known as Twitter, as discussions about Cassie and Diddy emerged.
Many social media users pointed out that there has been a multitude of unconfirmed rumors about Diddy's abuse circulating online for years, but the lawsuit appears to add weight to what had been only hearsay.
Singer Dawn Richard, who was a part of the music groups Danity Kane and Diddy – Dirty Money, also joined the online chatter.
"Praying for Cassie and her family, for peace and healing. you are beautiful and brave," Richard wrote on X.
O'Day, who was also a part of Danity Kane, spoke in support of Cassie online and to Page Six.
"Been tryna tell y'all for years. Prayers up for this queen," O'Day wrote on her Instagram story.