Budget-Focused Gaming Handhelds : rog ally z1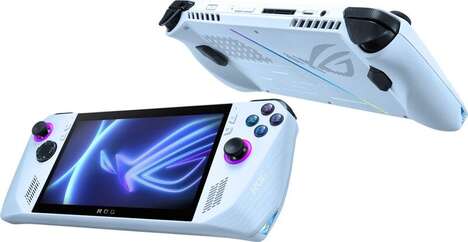 If you are looking for a portable device that can play games from different sources, you might want to check out the ROG Ally. It is a Windows 11 handheld that has a 7-inch 1080p screen with a high refresh rate and adaptive sync technology, 16 GB of fast memory, and a 512 GB SSD with a high-speed interface. The device uses a special AMD Ryzen Z1 chip, which has a 6-core/12-thread processor and a built-in graphics card with four compute units.
You can buy the ROG Ally with the Z1 non-extreme chip for $599, which is a lower price than the Z1 Extreme version that came out earlier this year. The Z1 Extreme chip has a stronger processor with 8 cores and 16 threads, and a better graphics card with 8 units. The Z1 non-extreme chip is good for cloud gaming and light gaming, while the Z1 Extreme chip is better for more intense gaming that requires more performance and quality. Both versions also include three months of Xbox Game Pass Ultimate for free.
Image Credit: ASUS