Biden Makes Taylor Swift Gaffe At Thanksgiving Turkey Pardon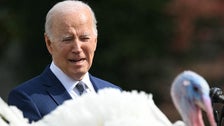 President Joe Biden started Thanksgiving week on an awkward note during the White House's annual turkey pardon on Monday.
It was hard not to cringe when Biden jumbled a joke about the pardoned poultry and pop stars Beyoncé and Taylor Swift, whom he appeared to confuse with another singer, Britney Spears.
The 46th president told attendees that the Minnesota birds, Liberty and Bell, beat "tough odds" and fierce competition to win their amnesty.
"You could say, even, it's harder than getting a ticket to the 'Renaissance' tour, or for Britney's tour," Biden said. "She's down in ― it's kind of warm in Brazil, right now."
Spears isn't in Brazil at the moment, but Swift is ― and unfortunately, Biden's remark about the heat is all too accurate. Last week, amid triple-digit temperatures, a fan reportedly died of cardiorespiratory arrest ahead of one of Swift's concerts in Rio de Janeiro.
During Monday's turkey talk, the president also joked about celebrating his 81st birthday, telling people on the South Lawn that "it's difficult turning 60."
John F. Kennedy issued the first official presidential turkey pardon in 1963, but the Thanksgiving tradition didn't really gain steam until George H.W. Bush revived the event in 1989.