BBC won't 'delay' coverage of India with tax raids and censorship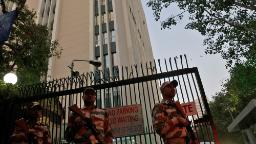 London
CNN
—

BBC says it will not 'delay' reporting in India after the government prevented a documentary film critical of Prime Minister Narendra Modi was off the air in the country and a raid on the offices of a television company.
Last week, Indian tax authorities ransacked the BBC's offices in Delhi and Mumbai for three days. The raids come almost a month after the Indian government used emergency powers to ban the two-part documentary India: The Modi Question.
In an email to staffers in India, BBC CEO Tim Davy hailed their courage in the face of what press groups and India's main opposition party the Congress condemned as an attack on press freedom.
"There is nothing more important than our ability to communicate without fear or preference," Davy wrote in an email, a copy of which was shared with CNN.
"Our duty to audiences around the world is to prove the facts through independent and impartial journalism, and to create and distribute the very best creative content. We will not be distracted from this task."
Davy added that the BBC "has no agenda".
The Indian authorities accused the BBC of tax evasion. The Indian Income Tax Department said it found "several inconsistencies and inconsistencies" in the reports of "a prominent international media company". The BBC said last week that it would "due to any direct official communication received from the Department of Income Tax".
Davy said in an email that the BBC continues to cooperate fully with the Indian tax authorities.
Reporters Without Borders (RSF) said the raids had "all the hallmarks of reprisals" as they came weeks after the Indian government prevented Modi's documentary from being shown and blocked the distribution of his clips on social media.
The documentary, which aired in the United Kingdom in January, criticized Modi's role as chief minister of the western state of Gujarat when riots broke out in 2002 between the state's majority Hindus and minority Muslims.
Modi was accused of not doing enough to stop the violence that killed more than 1,000 people, mostly Muslims. Modi denies wrongdoing, and a special investigation team appointed by India's Supreme Court in 2012 found no evidence that he was responsible.
The prime minister has been accused of silencing his critics in recent months, and on Thursday a senior member of the Congress of India party was arrested for allegedly insulting Modi.
— Swati Gupta and Manveena Suri in New Delhi, Olesya Dmitrakova and Martin Goilando in London and Alex Stumbo in Hong Kong provided reporting.