Bafana 'must' qualify for 2026 World Cup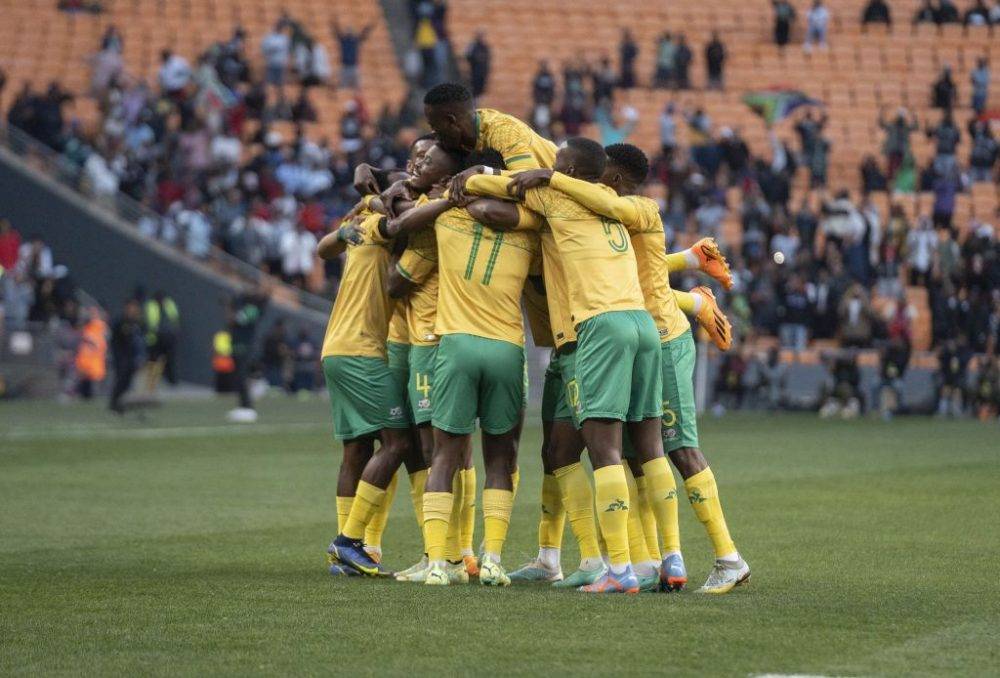 Players of South Africa celebrate after a goal during the Africa Cup of Nations qualifying match between South Africa and Morocco at FNB Stadium in Johannesburg, South Africa on June 17, 2023. (Photo by Ihsaan Haffejee/Anadolu Agency via Getty Images)
National teams have been the joy of South Africans in recent times. The country is still hung over from the Springboks' triumph in France and pleased with the Proteas and Banyana Banyana. 
Now the attention turns to the very unpredictable Bafana Bafana. Having failed to qualify for the last three Fifa World Cups, Bafana Bafana begin their qualification campaign for the 2026 edition against Benin on Saturday in Durban followed by a trip to Rwanda on Tuesday. 
The rest of the group is made up of Nigeria, Lesotho and Zimbabwe. 
Bafana Bafana come into these qualifiers on a good run of form. Unbeaten in their last five games, which includes a victory over World Cup semi-finalists Morocco and a draw against African heavyweights Côte d'Ivoire, have their former captain Aaron Mokoena believing that they are on an upward trajectory. 
"The boys should be aware that Banyana have done well, the Springboks have done well and the Proteas have also done well. It's supposed to be a motivation in a way," Mokoena says. "But all I can say is that the fact that the boys have qualified for the Africa Cup of Nations next year and they haven't lost in the past five games, I strongly believe that they have turned a corner. 
"But obviously, next year, going to Afcon and doing well there is the aim. But for me, having watched them play, I believe that the team Hugo Broos has assembled and the style they play, there's a lot of belief from myself that they will go out there and do well for the country." 
Mokoena's former teammate Matthew Booth understands that a direct comparison between the national sides is unrealistic and unfair to Bafana Bafana, but he voiced his concerns over the development of football in South Africa.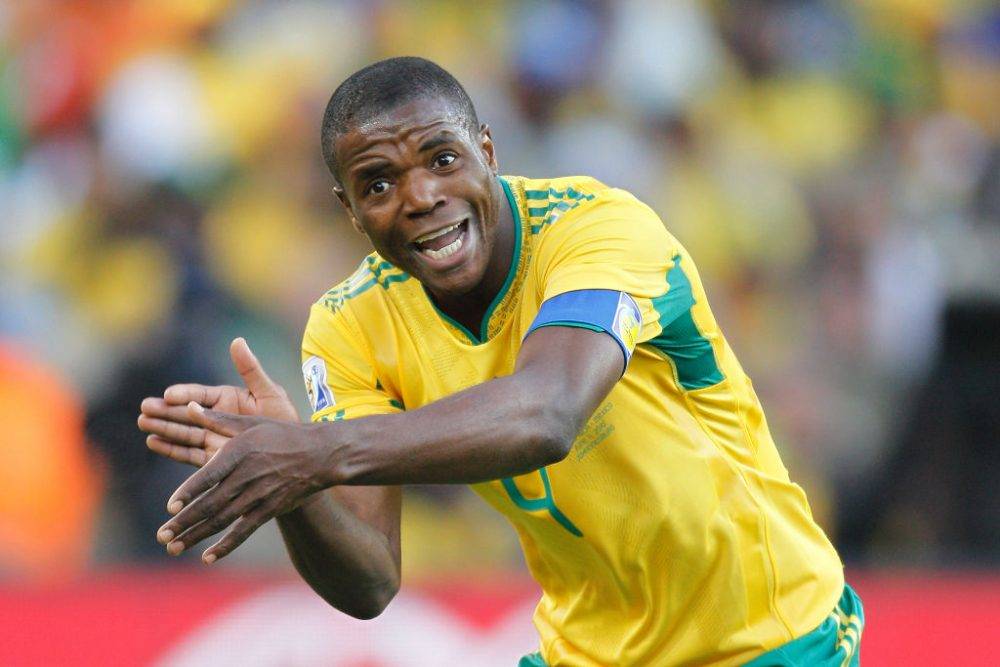 "I do think that we must qualify for the next World Cup given the format," he says. "But also, let's not compare apples with pears. There's over 200 countries trying to qualify for the football World Cup, unlike Rugby and Cricket. It's very tough, so we must not say we expect Bafana to win a World Cup anytime soon.
"It's important to understand that this begins at the grassroots level. The amount of investment that is put into rugby and cricket at schools compared to football means that they can extract from their talent pool correctly. With football, it is not like that at the moment," Booth adds. 
The talent on the field for South Africa does not seem to be an issue recently though. Broos has assembled a consistent 11 recently, which may be exactly why the team has performed consistently well over the past five international matches. 
In particular, the attack, which is inspired by Percy Tau off the right, has been thriving and linking up to cause much difficulty to opponents. 
Tau was instrumental in Bafana Bafana's qualification for Afcon and both Mokoena and Booth believe that he will also be vital if Bafana Bafana want to qualify for the 2026 World Cup. 
Not judging him based on stats, but just by the influence he has on the South African team every time the ball goes out to the right, he has opposing defenders worried and the crowd on their feet. 
Both Booth and Mokoena agree that his time in Europe and his current stint with Al Ahly have allowed him to grow in experience and this is why he is vital to Bafana Bafana's hopes of reaching a first World Cup since 2010.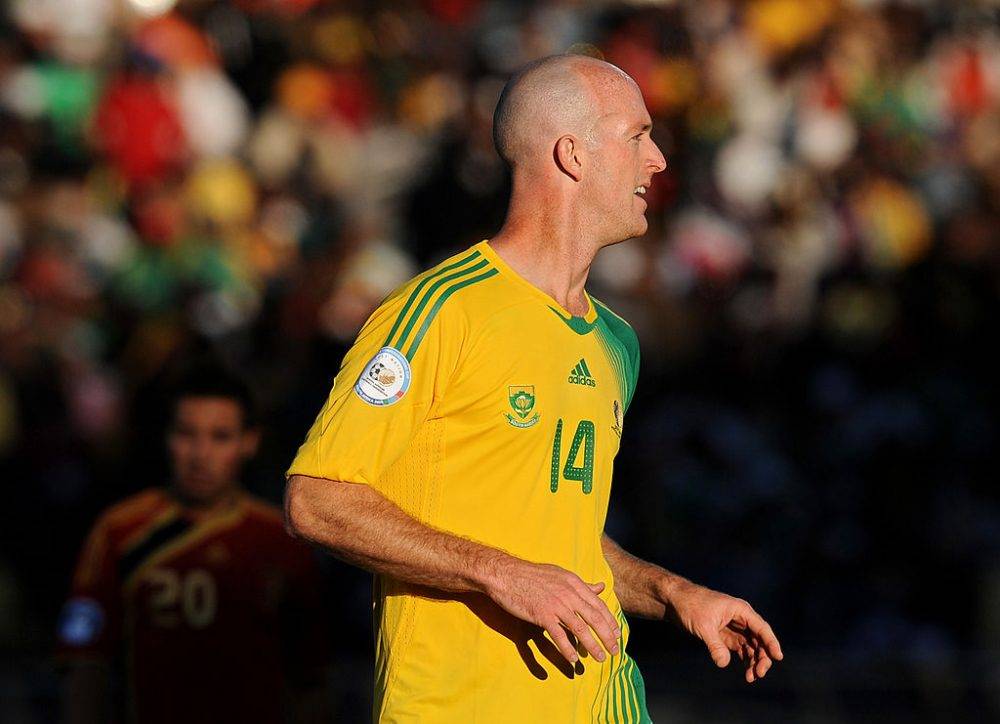 Coupled with the likes of Themba Zwane and Bongokuhle Hlongwane, the South African front four looks exciting even without Lyle Foster. 
This is not to discredit the work the defenders have done in Bafana Bafana's fine run of form. The defence has conceded just two goals in the last five games and have looked very comfortable on the ball as well. 
Mokoena attributes the stunning display of defence down to Broos for continuously selecting the same back four. He has given much applause to the coach for the cohesion he has managed to create between the back four. 
Bafana will most likely see most of the ball when they play Benin and Rwanda, which means they will mostly play on the front foot — but that means defenders will have to maintain their focus for the entire 90 minutes to avoid being caught out on counter attacks. 
"As a defender, you have to feel responsible once you concede goals. It might not be your fault, but the fact that you have conceded the goal, you have to feel horrible. When I used to play, that's how I used to feel," Mokoena says.
"I used to try and demand from my colleagues. I used to love defending and I used to enjoy defending. I used to be happy when we won and we conceded nothing. Now as a coach, you start building your team from defence and it's exactly what Hugo Broos has done. You make sure that there's cohesion between the back four and your holding midfielders and the goalkeeper," he adds.
But even with all the chips seemingly in Bafana Bafana's favour, the country must avoid their past experiences when attempting to qualify for World Cups. 
This time however, they will be given a boost as Fifa have introduced a new format for the 2026 World Cup, increasing the number of participants from 32 to 48. This means the African continent will now be given nine spots instead of just four. 
The former captain demands that the team qualify with this new format and says that South Africans have the right to place their expectations to be in the United States, Canada and Mexico in 2026. 
"It's a must that we qualify for this upcoming 2026 World Cup. Before, we had four African teams that were given spots in the World Cup, but now we have nine and that's an advantage for Bafana Bafana. This time around, we absolutely need to qualify. We can't not qualify. It's there to be taken"
"But before we get there, Afcon is vital. They need to lay a foundation in this Afcon. It won't be easy, but this Afcon will set the bar for the national team."
It won't be an easy experience for South Africans if Bafana Bafana fail in their quest to qualify given the recent success our national teams have enjoyed. 
The talent seems to be there, the experience in the camp is also present and there's a ton of players who bring international experience into the national team. What they may need is a touch of motivation which both Mokoena and Booth offered through the Mail & Guardian: 
"I would use the Springboks as an example for the Bafana Bafana players. I'd tell them that they need to look at the Springboks, look at the battering they took, but look at how they just kept going and how they left everything on the line for their nation. That's what they need to do if they want to play in the next World Cup," Booth says.
"If I were to get a chance to get into that dressing room and motivate the boys, I would say that you get to be judged out there by playing in the World Cup and if you want to be the best, you have to rub shoulders with the best and you find the best in the World Cup. To play in the World Cup is the highest achievement and it's either you want it or you don't," Mokoena says.