Ashley Graham responds to an interview with the arrogant Hugh Grant at the Oscars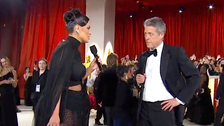 Question asked TMZ at the airport, if she took offense at Grant's seemingly arrogant manner, the model would respond, "You know what, my mom told me to kill people out of kindness. So come on."
Graham and the British actor went viral for their clumsy champagne carpet exchange for ABC in which Graham asked standard questions about his costume, his Oscar preferences, and his recent film The Bow of Glass: The Mystery of Knives.
Grant hardly spoiled them, showing many viewers a dismissive and bored look.
The Notting Hill star seemed to punctuate the exchange with an eye roll. However, Graham kept to the main road as she prepared to board the flight.
"I had so much fun," she said of her champagne carpet performance. "My legs hurt, but I had fun."
Here is their interview on Sunday: