Arkansas upsets defending champion Kansas to advance to Sweet 16
There will be no repeat champion march madness.
Top seeded Kansas Jayhawks head home after being upset no 8 Arkansas72-71, in the second round.
Kansas led by a full 12 points, but Arkansas responded with an 18-5 run to take a one-point lead for the first time since going 2-0.
CLICK HERE FOR MORE SPORTS ADS ON FOXNEWS.COM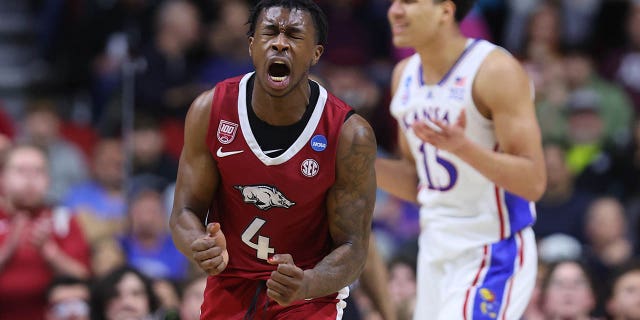 Both teams traded buckets and neither was able to increase their lead by more than four points in a matter of minutes.
The game was tied at 65 with 1:07 to walk away with the ball in Razorbacks possession and the tip gave them a two-point lead. However, the Jayhawks called a double bonus foul and Jalen Wilson did both with 39 seconds left.
Ricky Council IV of Arkansas drew a foul with 23.7 left, but he only made one of two. However, Arkansas was given an attacking board and the Council took the line again after a shooting foul. With 20.4 left, he hit both free throws to make a 3-pointer.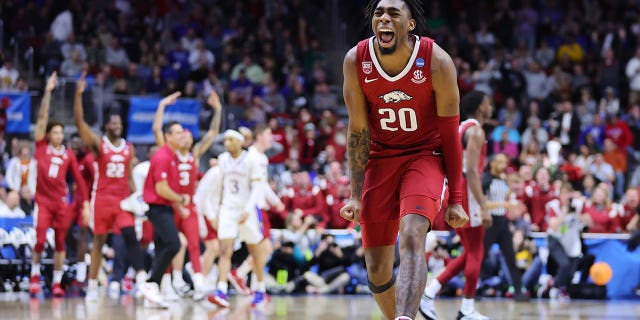 FAIRLEY DIKINSON'S EXPLICIT ABBREVIATION DRIVES THE INTERNET CRAZY AFTER THE MARCH MADNESS
Kansas called his final timeout with 16.1 seconds left and he chose a layup and a foul was called. Wilson made two free throws to cut their deficit to one, but Kansas had to foul Council and force him to hit a pair of free throws with 7.1 seconds left.
The council landed both shots and a blocking foul put Kansas back on the line. Wilson did the first and he tried to miss the second but scored. Arkansas was able to hold onto the ball for the final three seconds to win and advance.
Davonte Davis of Arkansas scored 25 points, 21 of them in the second half.
Arkansas will face the winner in a game between No. 1 and 2.4 UConn and No. 5 st. Mary.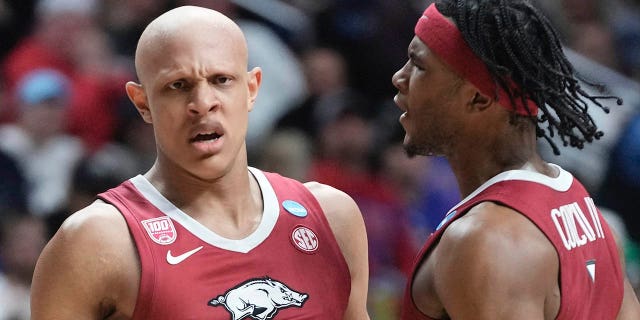 CLICK HERE TO GET THE FOX NEWS APP
Half of the tournament number. 1 seeds are now excluded after No. 1 Purdue lost the biggest upset in the history of the tournament, taking first place. 16 Fairley Dickinson Friday.