Advanced Wheelchair Treadmills : Wheely X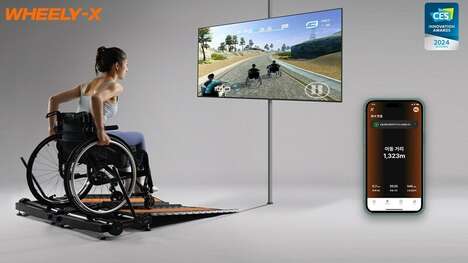 Wheely-X is a CES 2024 honoree that supports inclusivity and diversity in gaming, and it's challenging conventional mobility solutions by integrating a treadmill with a wheelchair. The sensor-equipped wheelchair treadmill from Kangsters, the trailblazing South Korean startup, gives users the ability to control their speed and direction with gestures or a mobile app.
Wheely-X helps to make physical activity and gaming accessible for those with different levels of mobility, and with its introduction, Kangsters is venturing into the realm of disabled esports. Kangsters sees Wheely-X as not merely a product but a catalyst for change and it's on a mission to reshape the future of mobility and gaming.
This CES 2024 Innovation Award honoree in the Accessibility & Aging Tech category will be showcased at a booth in Eureka Park.