Abdul Latif Afridi: Prominent Pakistani Lawyer Shot Dead in Courthouse, Police Say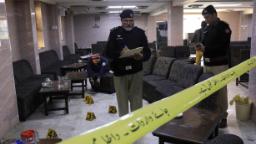 CNN
—

A prominent Pakistani lawyer and human rights activist was shot dead in court on Monday. building in the northwestern city of Peshawar, according to police and a witness.
Abdul Latif Afridi, 79, a former Chief Justice of Pakistan's Supreme Court Bar, was shot six times in a break room at the Peshawar High Court, Metropolitan Police Officer Muhammad Ijaz Khan told CNN.
Khan identified the suspect as junior lawyer Adnan Sami Afridi, 24, who was not directly related to the deceased Afridi, and said he had been taken into custody.
Witness Hayat Roghani said the alleged shooter raised his hands to surrender after the shooting, saying he avenged his father's death. Police also told CNN that the alleged shooter said it was a revenge killing.
Suspect's father, lawyer Samiullah Afridiwas killed by unknown gunmen in 2015. At the time, two militant groups claimed responsibility for killing Afridi, who was working for a doctor who was helping the CIA look for Osama bin Laden.
Although a large police contingent is usually stationed outside the Peshawar courthouse, lawyers are not searched upon entry. Security measures at the court have previously been questioned, especially after a teenager shot and killed a Pakistani-born US citizen who was tried on blasphemy charges in a courtroom in 2020.
Lateef Afridi, also a former MP, has openly criticized the alleged interference of the powerful military in Pakistani politics and Islamist militancy.
Prime Minister Shahbaz Sharif published statement on Twitter, expressing his grief and "deep sorrow" over the death of Latif Afridi.
He also denounced what he called the "deterioration of the rule of law" in the Khyber Pakhtunkhwa province, of which Peshawar is the capital.