8 children, 3 adults reported dead in airstrike by Burmese military
11 civilians, including eight children and a senior citizen, have reportedly been killed in an airstrike on the village of Vuilu, Burma, by the country's military junta.
"All the children were under the age of 12 and two of them are the teacher's children," National Unity Government official Ngai Tam Maung claimed Friday, noting that a church, two school buildings and about a quarter of Vuilu's houses were damaged.
Civilian casualties are a common occurrence in attacks by the Burmese military, known for retaliating against pro-democracy forces and ethnic rebels since seizing control of the government in 2021.
Airstrikes by Burma's military on a village in a western region have killed at least 11 civilians, including eight children, a leading opposition group and residents of the area said Friday.
The attack Wednesday on Vuilu village, south of Matupi township in Chin state, also left four people wounded, according to online reports in independent local media. The military government has not announced any attacks at the location.
As reports of the attack began to circulate, the U.N. human rights chief issued a statement calling for all parties in Burma to exercise restraint in military operations that could harm civilians.
CANADA, 5 EUROPEAN COUNTRIES LOOK TO JOIN GENOCIDE CASE AGAINST BURMA
Civilian casualties have often occurred in attacks by the military-installed government on pro-democracy forces and ethnically based armed groups since the army seized power in February 2021 from the elected government of Aung San Suu Kyi.
Chin state has been deeply involved in the armed struggle against military rule since the army takeover. The Chin National Front, an armed ethnic opposition group, and its allies on Monday seized the town of Rihkhawda, on the border with India.
Ngai Tam Maung, a deputy minister of the humanitarian affairs and disaster management in the National Unity Government, which leads the opposition to army rule and serves as a parallel government, told The Associated Press on Friday that two military jets dropped bombs on buildings in Vuilu, an isolated village in a mountainous area on the southern part of Chin state, at around 6:40 p.m. on Wednesday.
He said one of the bombs fell on a building where children were studying, killing eight students, two adults in their thirties, and another villager over 65 years old.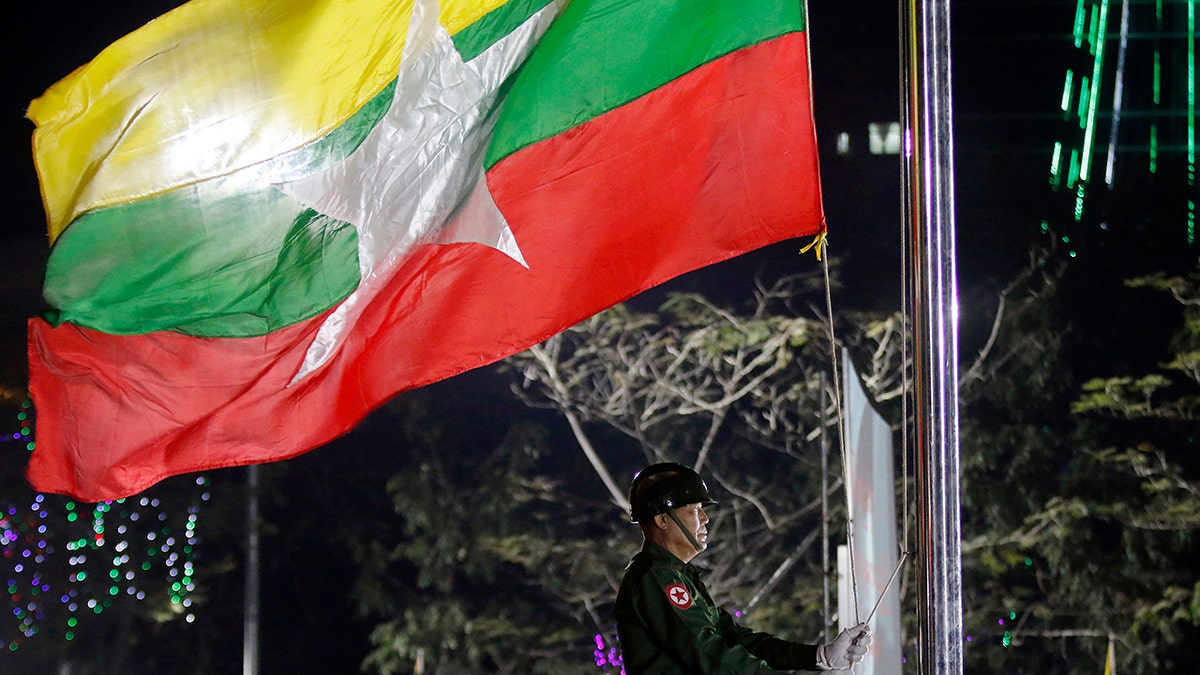 "All the children were under the age of 12 and two of them are the teacher's children," Ngai Tam Maung said by phone. He said a church, two school buildings and 18 houses in the village were damaged. The village has about 80 houses.
A resident of a nearby village also confirmed the aerial attack, and said there are no bases of ethnic armed groups in the village and there had been no battles there. But he noted the village is located near the border with the township of Paletwa, where fighting between the military and the powerful ethnic opposition Arakan Army is intense. He spoke on the condition of anonymity because he feared being arrested by the army.
There has been an upsurge of fighting recently throughout the country, starting in the northern part of Shan state, on the northeastern border with China.
A statement issued Friday in Geneva by the office of U.N. High Commissioner for Human Rights Volker Türk said his agency was "closely monitoring developments in Burma where anti-military armed groups and their allies have made significant advances and several hundred soldiers have reportedly chosen to lay down their weapons."
ETHNIC REBELS CLAIM ENTIRE BURMESE ARMY BATTALION HAS SURRENDERED TO THEM
The statement said it was "essential that all those captured are treated humanely," with reprisals absolutely forbidden.
The statement said that since the upsurge in fighting that began on Oct. 27, around 70 civilians have been killed and over 90 wounded, with more than 200,000 displaced. The U.N. has previously said that almost 1.7 million people had been displaced by fighting since the army's seizure of power in 2021.
"We are concerned, given past patterns, that as the military loses ground on multiple fronts, its response risks unleashing an even greater force, through indiscriminate and disproportionate air strikes and artillery barrages," said the statement. "Over the past two years, we have documented the severe impact of such tactics on the civilian population."
CLICK HERE TO GET THE FOX NEWS APP
It urged U.N. members states to intensify their efforts to help bring an end to the conflict.