10,000 tons of uncollected trash in Paris as unions call for action against pension reforms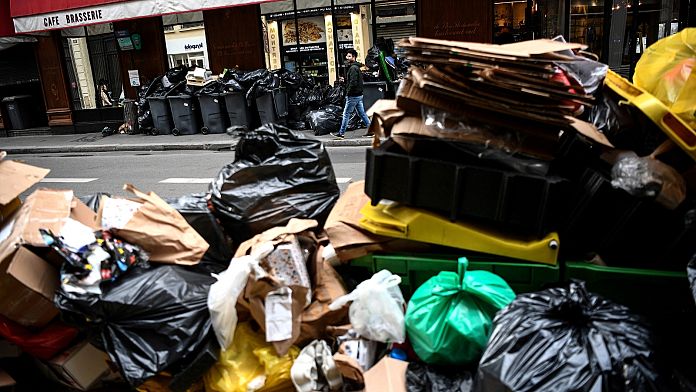 An estimated 10,000 tons of uncollected trash is piling up on the streets of the French capital as unions call for more weekend protests and strikes against the controversial pension reform.
Hundreds of people were arrested in Paris after two nights of protests, the interior minister said. Gerald Darmaninwhile demonstrations spread to Rennes, Nantes, Lyon and Marseille after President Emmanuel Macron exploited a legislative loophole to push through reforms to French pension laws that raised the retirement age to 64.
French opposition parties at present introduced a vote of no confidence in an attempt to overthrow the Macron government over his pension reform.
Unions have called for more local protests over the weekend, with strikes already planned for next week.
Flight cancellations expected: Up to 30% of flights at Paris-Orly airport and 20% of flights at Marseille-Provence airport are canceled due to an air traffic controller strike.
The SNCF rail unions have called for more strikes, with massive cancellations expected next Thursday on long-distance train routes and the Paris Metro; while commuter rail services in Paris have already been hit by strikes this weekend.
Refineries have been shutting down since Saturday as TotalEnergies employees went on strike – an action that could eventually affect gas stations across the country.
Trade unions representing workers in the electricity and gas industries have decided to strike again next week, calling for "maximum disruption to work."
At the port of Le Havre, officers and sailors operating tugboats remained ashore on Friday, significantly disrupting all activities at the port, with container ships, gas carriers and oil tankers unable to enter or leave the harbour.
In Calais, ferry service to the UK was completely halted on Friday morning.
In the meantime, an ongoing strike by garbage collectors in Paris means that, according to the mayor's office, about 10,000 tons of garbage accumulate on the sidewalks.